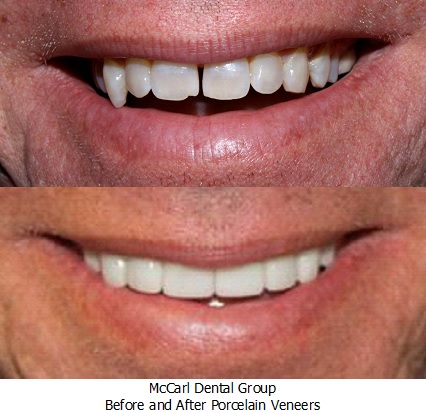 Whether it is a small chip or a large crack, identifying which type of cosmetic treatment you need isn't always easy. While you might be considering bonding or veneers, it usually requires meeting with your dentist for a scheduled consultation to understand the pros, cons, and other elements before moving forward in confidence with your decision. But even before meeting with a qualified professional, it can help to have a bit more insight into what each of these services has to offer, so read on to learn more about veneers and bonding and how they can take your smile to the next level.
Why is Dental Bonding Beneficial?
When it comes to dealing with minor flaws, you may find that they appear more visible than you realize. Those that are located toward the front of your mouth can often give you the biggest headache simply because they're so easy to spot.
Fortunately, with dental bonding, this easy-to-apply, pain-free process requires no more than one dental appointment. Not to mention, it is highly affordable for most patients. Placed onto the tooth enamel, the composite resin that is used is sculpted so that it hides the imperfection, leaving you with a newer, flawless appearance.
What Can Veneers Offer?
Porcelain veneers are unlike other cosmetic services simply because they are considered permanent. In just two appointments, you can watch your smile change from damaged to dreamlike. Hiding all flaws and allowing you to exude optimal confidence, these customized restorations are designed based on the size, color, and shape you and your dentist suggest.
A small portion of enamel must be removed before the veneers are put into place, as this step will help the bonding agent to keep the veneer secured against the front surface of the tooth. With optimal care and maintenance, you can expect custom veneers to last anywhere from 10-15 years.
Which Factors Should You Consider?
As you contemplate which cosmetic solution to choose, why not break it down according to the criteria you deem important? This might include everything from how long results will last to the type of cost that is required for an improved smile.
Cost: When comparing the price tag of veneers vs. bonding, it should come as no surprise that veneers will cost much more because they are custom-made for each tooth. Bonding uses composite resin that is malleable and also used to fill cavities.
Lifespan: If you prefer a solution that will last much longer, you must choose veneers. Bonding is durable, but it cannot withstand the same amount of daily wear and tear as veneers. While veneers can last longer than a decade, bonding tends to need repairing after 5-10 years.
Prep Work: Many patients prefer a less invasive option, especially if problem areas are minor. If this is your situation, opt for dental bonding. There is no need to remove tooth enamel, and the process is completed in one appointment. Veneers require a small bit of enamel to be removed, making them permanent, which means you'll need replacements throughout your life because you cannot reverse the process.
No matter which option you choose, it's best to talk it over with your dentist to hear which option they might recommend. This can help you to move forward confidently knowing that your new smile will look its best for years to come.
About the McCarl Dental Group
The four dental professionals at The McCarl Dental Group want you to enjoy the results you achieve after cosmetic dentistry. Whether it is bonding or veneers that you choose to transform your appearance, our skilled team is here to deliver honest answers and beautiful results. If you are interested in discussing your options for treatment, call our dental office today to learn how we can help.