Same-Day Dental Crowns – Greenbelt, MD
State-of-the-Art Glidewell Fastmill.io Technology
If you're a patient at McCarl Dental Group, you can always rely on us to deliver exceptional quality dentistry as we truly care about offering dental services that exceed expectations. Investing in the latest technologies is one way that we continue to improve the dental care experience for every patient. One of our most beneficial new technologies is the Glidewell Fastmill.io ("io" meaning In Office) system. We use this technology for same-day crowns. If you want to find out more or schedule an appointment with our team, give us a call anytime. We're always happy to help.
What are Same-Day Dental Restorations?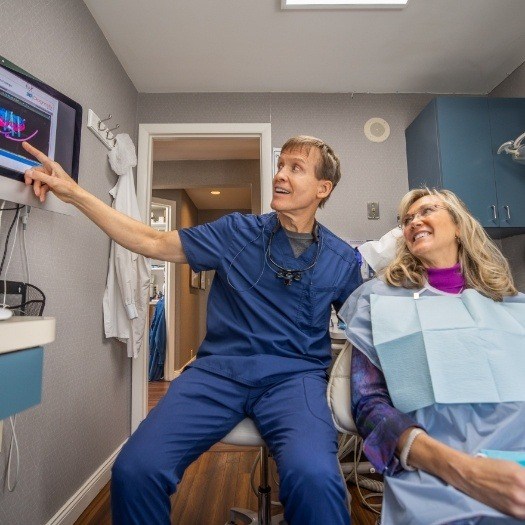 A "dental restoration" is a term for tooth treatment that fixes, seals, protects, or replaces a tooth. For dental restorations made from quality materials such as porcelain, we usually need to rely on our trusted dental labs. These professionals have access to the best materials and advanced equipment, and our dentists trust these skilled technicians to deliver gorgeous restorations for our patients. These restorations typically take 2-3 weeks. For front teeth, the custom shade and shape details from the dental lab may be the best option. However, to repair a tooth that is less noticeable within the smile, we may be able to save you some time with same-day dental restorations using the state-of-the-art Glidewell Fastmill.io system. As the name suggests, same-day restorations deliver high quality dental repair solutions in just one trip to our dental office.
How Does Glidewell Fastmill.io Same-Day Dentistry Work?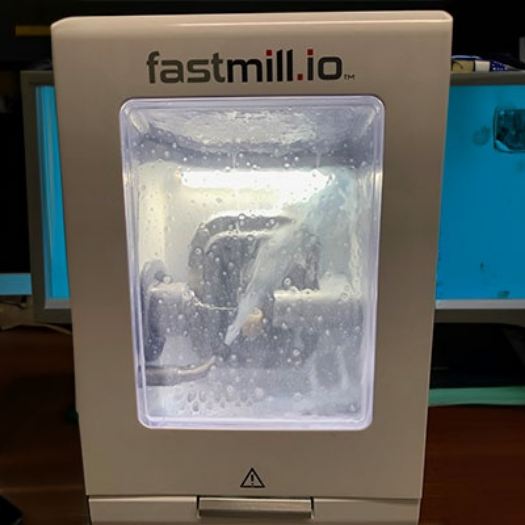 The Glidewell Fastmill.io system fits every step of the dental restoration process into a single visit. We begin by examining your smile and determining your dental care needs. If a crown is needed, we prepare your tooth or teeth for the necessary restorations. Then, we capture digital impressions or scans to design your restoration. The digital impressions are sent to our Glidewell Fastmill.io system where we use software to design your perfect restoration. The design is then sent to our in-office milling unit where a quality porcelain crown will be crafted to meet our design specifications. Finally, we place the custom dental restoration, leaving you with a restored and beautiful tooth.
What is the Glidewell Fastmill.io System Used For?
We use our Glidewell Fastmill.io system to perform a number of daily tasks in the dental office, including:
Capturing digital impressions for traditional and same-day restorations in conjunction with our iTero scanner (add link to our iTero website article).
Designing custom crowns for the prepared teeth captured in the digital impressions.
Milling dental restorations right here in the office for fast, convenient restorative dentistry solutions.
Are Same-Day Dental Restorations High Quality?
We always use the best quality materials available, but the Glidewell Fastmill.io system does have its limitations. While same-day dental restorations are durable and crafted from quality materials, they may not be crafted to the same level of cosmetic specificity possible in the dental lab. For this reason, we may recommend lab crafted restorations for those teeth that are most noticeable within the smile line.
What are the Benefits of Glidewell Fastmill.io Dental Restorations?
Some of the many benefits of same-day dental restorations using the Glidewell Fastmill.io system include:
Save time and trips to the dental office
Quick repair for emergency dental patients
Skip the uncomfortable traditional impressions.
Skip wearing a temporary crown for a period of time.
Precise results with in-office milling
Am I a Good Candidate for One-Visit Dentistry?
If you want to quickly restore a damaged smile, one-visit dentistry may be right for you. If you're looking for a more cosmetic final result, we may recommend traditional dental lab crafted restorations.