Dental Implants – Millersville, MD | Greenbelt, MD
Fill in Smile Gaps for a Lifetime
With a success rate of 98% over the past 50 years, dental implants have proven themselves to often be the best way to replace a single missing tooth. At the same time, they are recognized as an effective option for patients with many missing teeth and ill-fitting dentures. Our team is uniquely qualified to handle all aspects of your dental implant treatment. We start with a comprehensive examination, and we'll coordinate your care throughout.
Enjoy the videos that highlight just a few of the patients we have helped with dental implants, and please give us a call to schedule your, no-obligation consultation.
Patients turn back the hands of time with dental implants replacing teeth they have lost over the years. Our dentists have received advanced training in the surgical placement and restoration of dental implants. A dental implant acts like the root of a tooth and is used to support crowns, bridges, partials and full dentures.
When you lose a tooth, your jawbone gradually loses strength and firmness. This promotes bone loss and sometimes even causes changes in facial features. Losing just one tooth can cause uneven chewing and an unstable bite. Remaining teeth shift and proper cleaning can become more difficult. A misaligned bite often contributes to TMJ disorders (jaw joint dysfunction) and headaches. A dental implant can prevent bone loss at the site of the missing tooth, unlike a denture or bridge.
Learn More Dental Implant Facts
Why Choose McCarl Dental Group for Dental Implants?
Multiple dentists with decades of experience placing & restoring implants
All-inclusive implant care—entire procedure completed at one location by your own dentist
Our dentists are dedicated to keeping abreast of the latest technology and providing the highest quality to our patients
Videos
Expected Timeframe for Implants
Dental Implant with Sinus Lift
Dental Implant with Sinus Lift V2
Dental Implant Success Stories
Carolyn
"I get compliments constantly on my "beautiful" smile. I'm sticking with you guys!"
Augustine
"You will find the most skilled, effective, and efficient dentists at McCarl Dental."
Dental Implant Testimonials
Benefits of dental implants: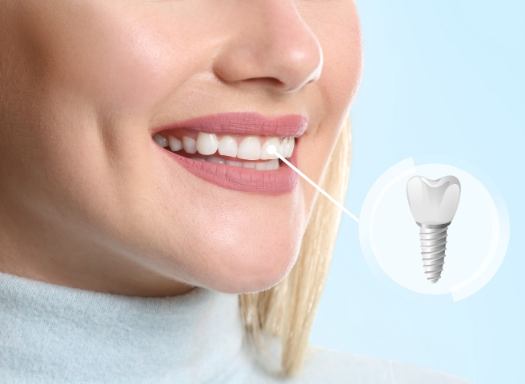 Little or no discomfort to the patient.
With very rapid healing, these implants attach themselves solidly to the bone.
Long-term effectiveness in stabilizing crowns, bridges and dentures.
Preserves bone and facial appearance.
Dental work retained by implants will never be subject to decay.
Cost effective – dental implants have actually become more reasonable.
If you would like to permanently replace missing teeth or add retention to a loose-fitting denture please ask us about your options with dental implants.
Download the Dental Implant Aftercare Document
How Dental Implants Work
Dental implants are placed into the jaw where they fuse to the bone. Implants are effective for the restoration of one missing tooth or several missing teeth. Previously, dentists relied on temporary measures to repair badly damaged teeth. Now, in many cases, implants that are restored with crowns last longer and cost less than ongoing repair efforts.
Many of our patients tell us that having a dental implant placed is more comfortable than anticipated. Unlike teeth, implants are not sensitive to temperature or decay. Jawbone density determines whether the dental implant can be restored immediately. The implant may need to "sleep" and strengthen for 3-4 months before restoration with a porcelain crown. Allowing an implant to fuse to the jawbone or "sleep" significantly adds to its strength.
Indications for Dental Implants
Dental implants are extremely versatile and able to meet the needs of patients with varying degrees of tooth loss. Our team can help you decide which type of restoration listed below would be best for you:
Missing One Tooth
Once an implant root is firmly in place, we attach an abutment which connects the implant post to a custom-made, all-porcelain dental crown. Unlike a traditional bridge, this new tooth will be able to firmly stay in place without putting stress on the nearby teeth and gums. And, because a dental implant restored with a porcelain crown looks like the teeth that surround it, it will completely blend into the smile.
Missing Multiple Teeth
A bridge is a prosthetic tooth replacement option that restores the crown portion of one or more consecutive missing teeth. Using dental implants as secure anchors within the jawbone, our team helps you restore your smile & your bite with an implant-secured bridge. The implants help to keep the jawbone healthy while the carefully crafted restorations look & feel natural. Enjoy a beautifully restored smile with dental implants and a custom bridge.
Missing All of Your Teeth
Dentures that are secured to the jaw bone using dental implants are more comfortable and look more natural than traditional removable prosthetics, making them an ideal choice for men and women who prefer a sturdier and stronger tooth replacement option. The dental implants help to keep the jaw strong while the beautifully crafted dentures allow you to smile, speak, and eat with renewed confidence. You'll love the comfort that come with the placement of implant-retained dentures.
Start to Finish Convenience
The dental implant procedure is usually completed over the course of two distinct phases: placement and restoration. Many dental offices refer patients to an outside specialist to perform implant placement, often adding time and expense to the process. At McCarl Dental Group, we bring convenience and cost savings to you. Our dentists have special training and experience to complete the entire procedure themselves, helping our patients rebuild their smiles in the most convenient way possible.
Understanding the Cost of Dental Implants
Because dental implants are able to help patients with a wide spectrum of tooth loss, the cost of the procedure can vary quite a bit from patient to patient as well. How many teeth a patient would like to be replaced, where they are located in the mouth, and the need for any preparatory procedures (such as a bone graft or tooth extraction) are all important factors that can affect the overall price of the procedure.
While it is true that implant restorations tend to cost more upfront than standard bridges or dentures, they are actually the most cost-effective option overall. Why? In addition to their superior function and aesthetics, dental implants are also extremely durable. Traditional replacements typically need to be completely redone every 7-10 years, while dental implants, with excellent care may last for 20 years or more. This often makes them just a onetime cost, saving a patient thousands of dollars in routine maintenance compared to more traditional treatments.