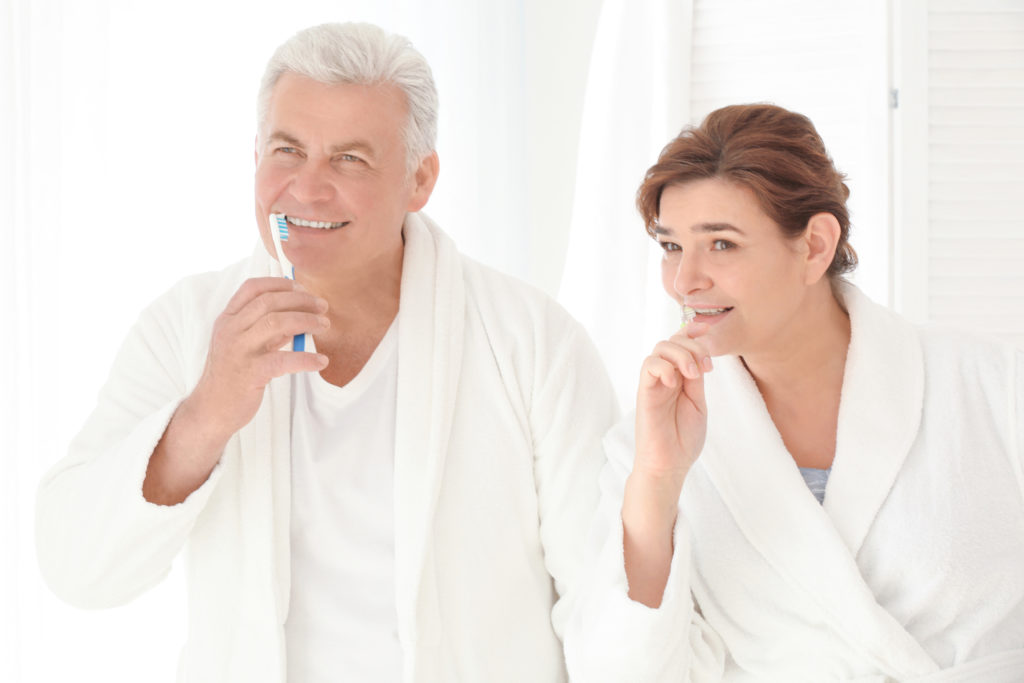 New Year's resolutions may actually go all the way back to the time of Julius Caesar. It makes sense that, at the beginning of a new year, we would want to start fresh with a clean slate, and while many people in the US focus resolutions on improving their health, few consider making changes to keep their smiles healthy. If you're looking for a new year's resolution you can keep, consider one of the following oral health related resolutions that you can start on right away.
1 – Floss Every Day!
Brushing your teeth delivers immediate, positive results, so it's easy to see and feel exactly why toothbrushing is so essential. Flossing is a different story. When you first start flossing, the experience may be uncomfortable, but over the long term, you will start to see better overall oral health, fresher breath, and other positive results from flossing. You just have to be patient and stick with it. That means flossing at least once a day. If you want help improving your flossing technique, talk to your dental hygienist or dentist in Greenbelt at your next dental checkup.
2 – Improve Your Toothbrushing Techniques
Even if you're already brushing your teeth every day, you might be able to improve your technique to ensure the best results. Some steps you can take to increase the efficacy of your daily toothbrushing routine include:
Brush at least two times a day and brush after meals when possible
Brush at least two minutes at a time
Brush systematically (not randomly)
Use a soft or ultra soft bristled toothbrush
Brush gently with the toothbrush at a 45 degree angle toward your gums
Use small back and forth strokes rather than large circular brushing motions
3 – Schedule Your Twice a Year Dental Checkups & Teeth Cleanings
Daily toothbrushing and flossing are an essential component of any oral healthcare plan, but visiting your dentist in Greenbelt twice a year for preventive dentistry checkups and professional teeth cleaning is just as important. During these biannual treatment visits, you'll receive a thorough exam and cleaning to help prevent oral health concerns and diagnose conditions in the earliest and most treatable stages.
4 – Don't Put Off Restorative Treatments
Oral health conditions are insidious – Once they start, they only get worse until they're treated. The sooner you repair your smile after decay or damage the better. If you have a cavity, chipped tooth, or other dental damage, repair your smile to prevent unnecessary further damage.
5 – Protect Teeth from Damage
In addition to keeping your smile healthy with preventive maintenance, you can also take steps to change your habits to protect your smile. Some steps you can take include:
Wear athletic mouthguards anytime you engage in contact sports where your smile could be damaged by other players, athletic equipment, or hard surfaces
Use protective mouthguards as direct for teeth grinding and clenching (bruxism) and TMJ
Don't use your teeth to open packages or crack nuts
Don't chew on your fingernails, ice, pen caps, or other hard objects
Kick your smoking or tobacco habits
Switch to sugar free gum
Bonus Resolution – Eat Healthy & Drink Plenty of Water
In addition to changing your oral hygiene routine and habits that directly impact your teeth, changing your diet can also help to strengthen and protect your smile. It turns out your mother's old saying, "You are what you eat," is actually very true when it comes to your teeth. Eat plenty of nutrient rich foods to deliver the calcium, phosphorous, and other nutrients that keep teeth healthy. Great choices include green vegetables, lentils and beans including chickpeas and hummus, nuts – especially almonds, seeds including chia seeds and figs. Stay hydrated and rinse stuck on food from your teeth by drinking plenty of water. Skip the sticky, acidic, and sugary foods that can damage your teeth.
Meet the McCarl Dental Group Team
If you live in the Greenbelt, MD area, the trusted and knowledgeable dentists at McCarl Dental Group would love to help you improve your preventive dentistry routine in 2020. We have been serving the community for generations, and our decades of experience and training can help you maintain a healthy, beautiful smile. To get started, reach out to our team in Greenbelt, MD or complete the simple online request form.