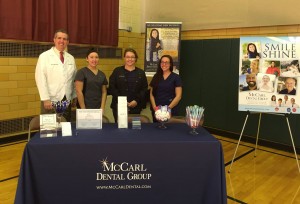 McCarl Dental Group is fortunate to have an opportunity to take part in PG County community events that emphasize oral and overall health. The annual Greenbelt Health & Wellness Fair is one of our favorite events because we get to meet with members of the community and provide oral hygiene goodie bags, free dental consultations, and education on the best practices for at-home dental care. If you missed out on this year's event, we hope to see you next year for this event dedicated to living happier, healthier lives, and we invite you to contact McCarl Dental Group to schedule a dental checkup and teeth cleaning.

About Greenbelt Health & Wellness
Greenbelt is proud to be one of only 15 HEAL (Healthy Eating Active Living) cities and towns in Maryland. As part of the initiative to help community members lead healthier lives, the city offers numerous activities for people of all ages from participating in the Playful City USA program to providing Greenbelt Assistance in Living (GAIL) for seniors. The annual Greenbelt Health & Wellness Fair is just one more way that the community shows its support for the lifelong health of its residents. In addition to oral health screenings from Dr. Jay McCarl and his team, the fair offered participants the opportunity to get numerous preventive health screenings, flu shots, massages, vision screenings, and more. It always feels great to participate in Greenbelt's many health and wellness initiatives, and the 16th Annual Health & Wellness Fair was no exception. Dr. Jay McCarl and dental assistants Skye Glazier, Courtney Young, and Sarah Weatherford attended this year's event, and enjoyed having the opportunity to meet and mingle with patients from Greenbelt and beyond.
Dental Questions from Greenbelt Residents
The dentists at McCarl Dental Group had one-on-one conversations with Greenbelt residents who had concerns about dental implants for missing teeth, options to retrofit failing dentures and secure them with dental implants. We also spoke to a patient who had not been to the dental office for several years – we welcomed her back. It is especially important to restart regular dental visits after missing more than 6 months. We do not scold or judge – we are genuinely happy to see patients return for dental care. Another concern was dental insurance and controlling dental costs – we will work with you as well as we can to consider special needs, offer affordable options for dental treatment and, when needed, financing.
The Importance of Oral Hygiene Every Day
While we love to celebrate oral health with our community, McCarl Dental Group encourages patients to remember that dental hygiene is an important part of everyday life especially during the sugar-filled holiday season. If you haven't been to see us for a checkup or teeth cleaning in the past six months, please consider scheduling an appointment soon. Even the most thorough at-home care routine isn't 100% effective at preventing tooth decay, gum disease, and other oral health issues. Let our skilled, knowledgeable dentists and staff help you achieve or maintain your best possible oral health with a dental exam and cleaning.
Same Day Emergency Dental Care from Your Dentist, Greenbelt
Several of our patients stopped by to thank us for our commitment to dentistry and especially our willingness to take care of dental emergencies in a timely matter. The dentists at McCarl Dental Group do our best to provide compassionate care to anyone who is in dental pain on the day they call. Whether you are seeking preventive dental care, restorative or cosmetic dentistry, or same day dental emergency care, we are dedicated to helping you.