Meet Our
Greenbelt Dentists
Our Greenbelt dental team is led by not one, but five dentists! Why have five dentists, you ask? Having more doctors on-staff means we're able to provide a wider array of services for our patients, plus we have more convenient appointment times available as well. And, our dentists can easily coordinate with one another to ensure that our patients only receive the highest standard of care. Thanks to them, whenever you come to see us, you can trust that you'll always be in good hands.
Meet Our Dentists
From Left to Right: Jay McCarl, DDS Dianna Lee, DDS Clayton McCarl Jr., DDS Richard Duarte, DDS Dave McCarl, DDS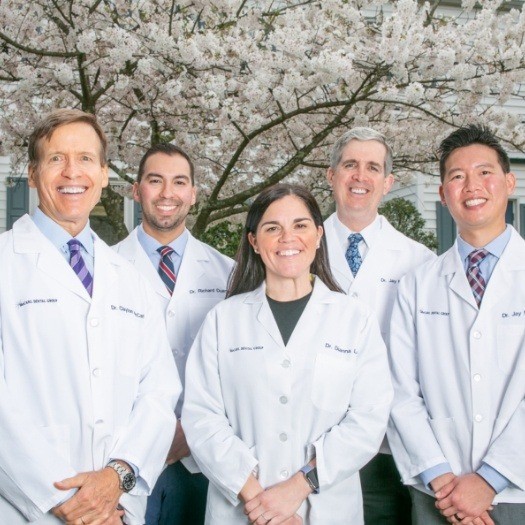 Greenbelt Dental Patient Reviews
Over 400 5-Star Reviews
"Everyone is very nice and welcoming. Any dentist office overall is not my fav place but they really do make you feel comfortable. Everyone from the front office to the hygienist to the dentist are consistently nice. The inside of the office is beautiful and clean. A great practice that I would recommend."
Jessica S. | Greenbelt, MD
"Everyone was cheerful, welcoming, competent, and professional. I was particularly pleased that an appointment could be set up without a protracted wait, and that this office could handle every part of the work I need, without having to be sent to a variety of other practitioners. Dr. Lee answered all of my questions and explained every part of the treatment plan in detail. I have every confidence in her continuing care, and am looking forward to very successful results."
Martin K. | Greenbelt, MD
"It goes without saying I find the standard of care of the highest quality. But more than that, there is an upbeat aura about the place that makes it so special - I'm glad they care about me, but I love they care about learning, each other, and what they're doing. If you don't like dentists, these people might just change your mind!"
Victoria B. | Glen Greenbelt, MD
Read More Reviews

Featured Dental Services
How We Help You Smile
Do you have one or more missing teeth, and you're finally ready to have them replaced? Or, do you simply want to improve the appearance of stained, crooked, or oddly spaced teeth? Do you have a toothache that just won't go away? We're able to help our patients overcome these common problems and much more, and you can read about each of our services by clicking on the links below.
See All Our Services