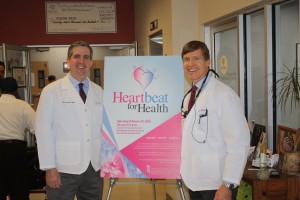 On Saturday, February 20th, Drs. Jay and Clayton McCarl and dental hygienist, Ashley McCarl Harrison had the opportunity to show our support for community health in Severna Park Maryland as part of the 2016 Heartbeat for Health event. This expo gave community members the opportunity to learn about their current oral health and opportunities to improve dental health. We take every opportunity to give back to our community, and Heartbeat for Health is one more way we help patients get their healthiest smiles.

The Event
Hosted by the University of Maryland Baltimore Washington Medical Center, Heartbeat for Health is an annual event free to the community. Fun for the whole family, this day-long health fair offered exercise and dance demonstrations, health screenings, and healthy snacks in a fun and informative environment. As part of our community's dedication to living healthy, this event inspires people to get ready for a new year filled with positive change and growth by making small modifications to daily habits that have a huge impact.
Our Day
From 10 am to 2 pm, our team offered complimentary dental health consultations and oral cancer screenings. During a dental health consultation, we are able to answer questions, make recommendations, and offer a wide range of treatment options to help patients get a healthier, more beautiful smile. Oral cancer leads to 1 death an hour in the US alone. According to the Oral Cancer Foundation, the best way to decrease that number is to diagnose and treat this disease in earlier stages. We recommend adults receive oral cancer screenings as part of their regular preventive checkups every six months, and if patients do not currently visit the dentist twice a year, this should be their first step. Some things we help patients with during a dental consultation include:
Education on and demonstration of best practice in at-home care
Recommendations for toothpastes, toothbrushes, mouthwash, and other oral hygiene products
Treatment for dental sensitivity
Screenings for numerous oral health concerns including tooth decay, gum disease, bruxism (teeth grinding and clenching), TMJ disorder, oral cancer, and more
Early intervention for potentially damaging oral health issues
Schedule your Dental Health Consultation
If you weren't able to make it out to this year's Heartbeat for Health event, we hope you'll consider taking the first step to improving your oral health by scheduling a dental health consultation with your dentist in Millersville at McCarl Dental Group. Our family is dedicated to helping patients achieve and maintain the optimal level of oral health for a lifetime of beautiful smiles.