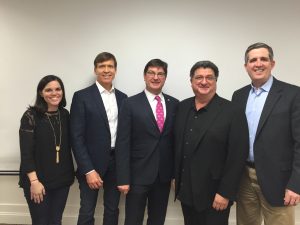 At McCarl Dental Group, we've been offering advanced tooth replacement services with dental implant supported prosthetics for decades. As part of our dedication to continuing education, we continually attend lectures, seminars, and trainings in advanced procedures. Recently, Dr. Dianna Lee, Dr. Jay McCarl, and Dr. Clayton McCarl attended a lecture from the preeminent dental implant expert, Dr. Dennis Tarnow. We're proud to share some of the insights from Dr. Tarnow's Triple Crown Study Club lecture with our patients, and look forward to continuing training to and integration of Dr. Tarnow's dental implant research findings.

About Dennis Tarnow, DDS
Dr. Tranow is a graduate of the New York University College of Dentistry where he was the Chairman of the Department of Periodontics for several years. He has completed specialty training in both periodontics and prosthodontics making him an ideal educator regarding placement and restoration of dental implants. He is currently the Director of Implant Education at Columbia University's College of Dental Medicine. His research has been published in many of the leading journals in the dental field including more than 1000 papers on implant dentistry. Dr. Tranow is a leading dental implant innovator currently working in the field, and it was a thrill to have the opportunity to learn with him.
The Latest in Dental Implant Research
During the lecture, Dr. Tranow shared his latest work that not only minimizes discomfort and healing time but also dramatically improves the stability of implant supported dental prosthetics. We are incorporating these additional innovative materials, techniques, and technologies into our dental implant services at our Greenbelt and Millersville Maryland dental offices. We are always dedicated to offering patients comfortable, effective treatments. The advances in patient comfort during implant surgery and following restoration discussed during Dr. Tranow's lecture offer us the opportunity to do just that. Using Dr. Tarnow's methods, dental implants have a 96% success rate and patients report shorter recovery times and more stable foundation.
Schedule Your Dental Implant Consultation
If you're in need of tooth replacement, please call our Millersville, Maryland dental office – McCarl Dental Group at Shipley's Choice  410-987-8800 or contact our dentists in Greenbelt – McCarl Dental Group 301-474-4144. We are happy to examine you and make recommendations for the best tooth replacement option for you. Not every patient is a perfect candidate for dental implant retained tooth replacement, but with Dr. Tarnow's innovative techniques and our years of experience and training, we are able to offer secure, lasting implant tooth replacement for more patients than ever.