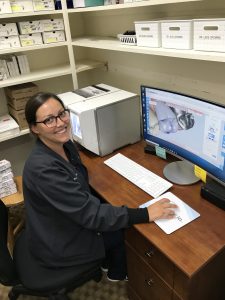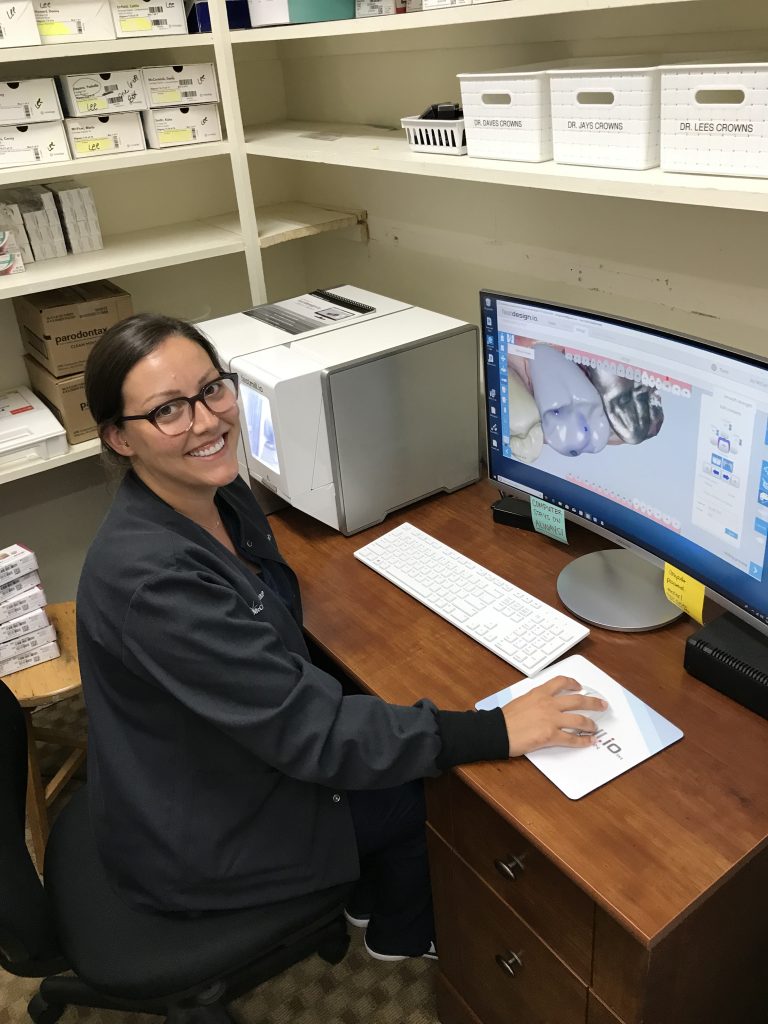 At McCarl Dental Group, we're dedicated to staying at the forefront of the dental field, which is why we are always updating our dentistry technologies. We recently invested in the state-of-the-art Glidewell Fastmill.io milling unit to offer same-day dental restoration system. This unique digital dentistry tool allows us to design, craft, and place a custom, ceramic dental crown in just one visit to our Greenbelt or Millersville dental offices.

What is the Glidewell Fastmill.io System?
Glidewell Fastmill.io is a digital dentistry system that gives us the option to offer same day dental restorations for our patients. Traditionally, we would capture intraoral scans, design your restoration, and send all of the information to a dental lab where your crown would be crafted. While your restoration was crafted at the lab, you would have a temporary dental crown placed. The temporary then needed to be removed at a second appointment for the permanent crown to be placed. This in-office milling unit lets us skip over the temporary restoration and the second visit. Instead, we capture diagnostic images, design your flawless smile, craft the dental crown in-office, and place the restoration in just one trip to our dental office.
How has Glidewell Innovated Dental Care?
The Glidewell Fastmill.io system is one of the most trusted same day dental restoration systems available. After decades of continuous innovation and dedication to improving every aspect of treatment, the Glidewell Milling Unit makes it possible for our dentists to provide the same exceptional level of dentistry service without needing to schedule multiple visits to our dental office. Additionally, the digital smile design system reduces human error between our office and the dental lab, ensuring higher quality and more precisely crafted results.
What is Glidewell Fastmill.io Used For?
There are many uses for the state-of-the-art Glidewell Fastmill.io system, including:
Capturing digital impressions for both in-office and lab-crafted dental restorations, oral appliances, and more.
Designing flawless smile repair and cosmetic dentistry plans while minimizing risk for human error in the crafting process.
Milling dental crowns other high-quality ceramic dental restorations with our in-office milling unit.
Meet the McCarl Dental Group Team
The McCarl Dental Group team has given generations of families in Greenbelt and Millersville reasons to smile. From the McCarl  Dental Group family to yours, we are committed to making visiting the dentist something you look forward to, and our dental technologies continue to improve the dentistry experience for every patient. Whether you're interested in learning more about our Glidewell Fastmill.io same-day restoration system and other dental technologies or it's time to schedule your six month preventive dentistry appointment, the McCarl Dental Group team would love to hear from you. Please don't hesitate to give us a call.