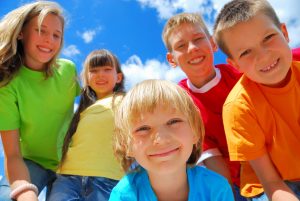 When it comes to your oral health, prevention is key. Keeping your smile healthy is much easier and safer not to mention more comfortable and affordable than intervening after a problem occurs. The easiest step you can take to protect your oral health is to schedule preventive dentistry visits with your dentist twice a year. If you have a busy family, scheduling one of your twice a year visits over the summer can be a great option. Keep reading to learn a bit more about the benefits of summer dental appointments for kids and parents.

1 – Help Kids Keep Smiles Healthy
One of the services provided by your dentist and dental hygienists that may go unnoticed is education. The dentist can help you understand best practices in at-home oral hygiene, but you still need to enforce these new and improved routines after you leave the dental office. During the school year, your family is probably very busy, rushing from one thing to the next. Taking time to learn new oral hygiene habits (or enforce them) during the school year can be a real challenge. The summer break can be a great time to start teaching your kids good oral hygiene habits and enforcing new at-home smile care routines.
2 – Avoid Missing School
For many parents, the most significant benefit of summer dental visits is avoiding taking kids out of school. Additionally, maintaining regular dental checkups can help to ensure your child doesn't miss school to receive treatments for oral health concerns like cavities. Keep kids' smiles healthy over the summer and all year round by partnering with a trusted family dentist for regular dental checkups and teeth cleanings.
3 – Save Time with Family Block Scheduling
Most family dental offices make it easy for you to bring everyone in on the same day by offering block scheduling. Not only do you and your children get the care you need from the same dental office, but you also save time by bringing everyone in to see us on the same day. It may not seem like the most exciting use of your summer vacation, but you'll be investing the time in keeping your family smiling.
Get to Know the McCarl Dental Group
The team of dentists and smile specialists at McCarl Dental Group love working with families in Greenbelt and Millersville, Maryland to achieve and maintain healthy smiles. If you're already one of our patients, you know how important regular preventive care is to ensure optimal oral health. If you're brand new to our dental office in Greenbelt, we can't wait to get started working with you and your loved ones to develop a personalized oral healthcare plan to keep your smile healthy for life. Ready to get started with a summer appointment? Give us a call today.