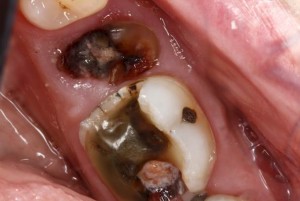 Cracked or broken teeth are more than uncomfortable, they can be painful, unsightly and detrimental to oral health. Yet, many patients choose to live with cracked or broken teeth rather than seeking immediate treatment. If you have a cracked or broken tooth, don't postpone your dental care. The skilled dentist Greenbelt turns to, McCarl Dental Group, can see you quickly (on the same day in most cases) and will work to retain your natural tooth whenever possible. Call our Greenbelt or Millersville, MD offices to find out more today.
Causes of Cracked or Broken Teeth
Many patients use the terms cracked and broken tooth interchangeably, but there is a difference. Cracked teeth are still whole, but there is a crack in the enamel and/or dentin tooth layers. Whereas broken teeth actually have a piece or pieces that have broken off. However, the same types of dental trauma can lead to both cracked and broken teeth. Common causes of cracked and broken teeth include:
Biting into a hard object
Trauma (fall, car accident, being hit)
Tooth decay weakening the enamel
Sports related injuries
Deteriorated seal between tooth and fillings, inlays, onlays or crowns
Cracked or Broken Tooth Repair
Cracked teeth can often be repaired with a filling, onlay or crown, but most patients don't become aware that their tooth is cracked until it breaks, decays or causes irritation and sensitivity in the pulp. A cracked tooth can easily be broken during chewing or talking as teeth grind together. Additionally, bacteria entering the crack are unlikely to be removed by routine brushing and flossing making the affected tooth susceptible to decay, and finally, as the crack breaks through the enamel and inner dentine layer of tooth it begins to cause irritation to the soft, pulp layer that contains the nerves. Eventually, this becomes extremely painful and can lead to root canal infection.
There are three main types of cracks: fractured cusps, split teeth, and vertical root fractures. Each is treated differently. In all cases, the fractured part of the tooth will likely need to be removed. A small tooth fracture can be repaired with a bonded filling. A larger fracture needs a crown or onlay.
In the case of split teeth, at least one root is usually able to be retained, and the remainder of the tooth is replaced with a crown. Root canal therapy is necessary before restoration in a split tooth in order to remove infection or inflammation when the crack reaches the pulp. Unfortunately, vertical root fractures usually result in the tooth being extracted. These cracks run through the center of the root and compromise the strength of the rest of the tooth making it very difficult to preserve the structure. We have numerous tooth replacement options at McCarl Dental Group that will restore your smile after tooth loss including dental crown and bridge, dental implants, full and partial dentures.
Broken teeth are repaired similarly to cracked teeth. Once the fractured portion of a cracked tooth is removed, it essentially becomes a broken tooth. Bonded fillings can repair small breaks in teeth. Crowns are needed for larger breaks. Root canal therapy is required for even more extensive broken teeth and extraction for teeth that are broken through the foundation of the root.
Call the Dentist Millersville Loves – McCarl Dental Group
Our dental care practitioners are here to help patients when dental disaster strikes. Whatever the cause of your cracked or broken tooth, we can stop the pain and help get your beautiful smile back. Call to schedule an emergency restorative dentistry appointment today. Our Millersville and Greenbelt dental practices welcome patients from local communities including Annapolis, Crofton, Glen Burnie, Bowie, Laurel, Glen Dale, University Park, and Hyattsville.