Veneers – Greenbelt, MD
Transform Your Smile Quickly & Completely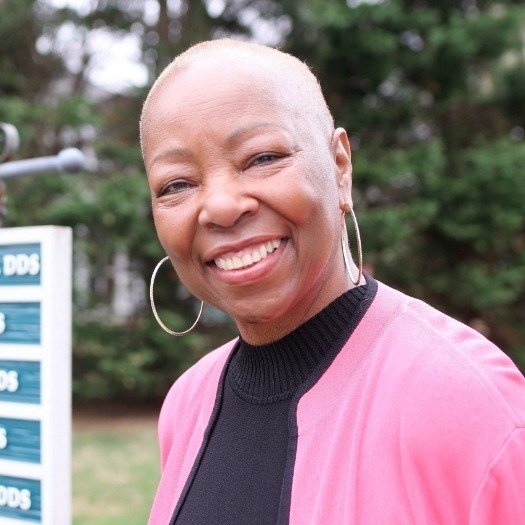 At McCarl Dental Group, dentistry patients know they can rely on us for all of their dental needs, including a wide range of cosmetic services like porcelain veneers. We create personalized cosmetic dentistry plans to deliver picture-perfect smiles that will improve your confidence and make it possible for you to share a brilliant smile in any situation and make a great impression with every smile. When you're ready to learn more, call our caring dentists and team in Greenbelt to schedule a cosmetic consultation in our state-of-the-art, family-friendly dental office.
What Are Dental Veneers?
Veneers are cosmetic dental restorations crafted from thin layers of custom-shaded, tooth-colored porcelain or composite resin materials that are securely bonded to the front surfaces of your teeth to improve the shape, color, alignment, and overall appearance of your smile. Porcelain veneers are permanently bonded to your teeth, and they are an effective treatment option to address several cosmetic flaws in just a few short appointments. Minimally invasive, porcelain veneers also allow us to protect the remaining healthy tooth structure.
Types of Veneers
No treatment is right for every patient. At McCarl Dental Group, we believe one of the keys to creating beautiful smiles is recognizing that there's no such thing as one size fits all treatment, so if you decide to move forward with porcelain veneers, we'll create a personalized treatment plan, which may include many different types and brands of veneers, including the following options:
Traditional Veneers
Traditional porcelain veneers resemble a fingernail in density. They can be placed within the smile line with the removal of only a small amount of surface tooth structure under local anesthesia. This allows the veneer to lay flat within the smile. However, the removal of surface tooth enamel means traditional veneer placement is not a reversible process.
Thin or Minimal Prep Veneers
Thin veneers, sometimes called minimal prep or no prep veneers, are about the size of a contact lens. Their ultra-thin design means we can often affix thin veneers without the removal of any surface tooth enamel, which means the procedure can sometimes be completed without any local anesthesia. Additionally, treatment using minimal prep veneers can usually be reversed. However, these veneers aren't always effective in correcting darkly stained or discolored teeth or concealing larger areas of dental damage or cosmetic flaws.
Combo of Traditional & Thin Veneers
To create the ideal smile makeover plan for your individual needs, we can even combine both traditional and thin porcelain veneers as part of the same custom cosmetic dentistry plan.
The Process of Getting Veneers
Each person's porcelain veneer treatment will be unique, but many smile makeovers with veneers are completed in just two to three visits with our Greenbelt cosmetic dentist. In most cases, we'll invite you in first for a cosmetic dentistry consultation to review your treatment options. Then, the veneers will be placed throughout one or two additional visits, depending on your treatment plan. While every patient's experience will be different, you can learn more about the typical process below.
Initial Consultation
During your appointment, we'll examine your smile and discuss your treatment goals. Then, we'll talk with you about all of your cosmetic dentistry options, including porcelain veneers. We may recommend combining porcelain veneers as well as other cosmetic dentistry options for a complete smile makeover plan. If we decide veneers are the right solution to create your ideal smile, we'll walk you through the rest of this process, including how long the process will take, how many veneers you may need, and all of your payment and financing options. At the consultation appointment, we may also capture digital X-rays and bite impressions and take photos of your teeth. We want to make sure your smile and bite are healthy before moving forward with cosmetic dental care. If we do find signs of common oral health concerns, we will recommend treatments to renew your oral health and repair dental damage before we continue. If you are going to receive traditional veneers, we are often able to begin the dental preparation process at this initial visit.
Smile Preparation & Porcelain Veneer Design
We may begin this part of the process during your consultation (time permitting). Otherwise, we will prepare your tooth or teeth and design your porcelain veneers during the second visit to our dental office. For traditional veneers, this will include removing surface tooth enamel to accommodate the additional porcelain veneer structure. For all veneer types, we smooth and shape the tooth structure. We will discuss whether or not to use local anesthesia or other sedation dentistry solutions before we get started to ensure your complete comfort. Most patients only need mild local anesthesia to complete their porcelain veneer preparation.
Then, we will capture digital impressions of these prepared teeth in order to design your flawless porcelain veneers to blend seamlessly into your smile. The design is sent to one of our trusted dental labs where your porcelain veneers will be hand crafted to our exact specifications. If we removed surface tooth enamel to prepare your teeth, we may need to place a temporary veneer to protect your smile until the custom restoration arrives in our dental office. We usually receive your final porcelain veneer one to four weeks after your preparation appointment.
Porcelain Veneer Placement
After we receive the custom porcelain veneers from our dental lab, you'll return to our dental office for one final visit. This last appointment is typically very short, between one and two hours, depending on whether or not you use local anesthesia or sedation dentistry options. The dentist will first check that the color, size, and shape of your porcelain veneer are as expected, so you will achieve your desired result. Once the dentist is sure the veneer is perfect, they remove temporary restorations, as necessary. Next, the dentist carefully cleans and dries your teeth to ensure no bacteria or other substances are trapped between your veneer and the surface of your tooth, and they apply an etching material to create a more porous surface to ensure a tight bond between the tooth and porcelain veneer.
Then, we affix the final porcelain veneers to the surface of your tooth, using dental cement. A curing light is used to harden the cement after it seeps into the porous tooth structure, bonding to your smile and holding the veneer firmly in place. Finally, we smooth and polish your teeth, remove excess cement, and test your bite to ensure the teeth fit together properly. At last, you'll leave our dental office with a gleaming new smile. We may recommend a follow-up appointment in about a month to ensure your veneers look and feel as you hoped.
Caring for Veneers
The durability and stain resistance of porcelain veneers are two big selling points for these cosmetic dentistry solutions, and with proper care, the average traditional porcelain veneers last from 5 to 15 years and minimal prep veneers last from 5 to 10 years. Your oral healthcare routine and dental habits will have a big impact on the longevity of your porcelain veneer restoration, so to protect your investment, it's important to follow the tips below.
Practice Good Oral Hygiene
The easiest way to keep your porcelain veneers looking great for years to come is to brush your teeth twice a day and floss at least once each day.
Brush for at least two minutes at a time to ensure you thoroughly remove all plaque buildup and food particles from every surface of teeth. Use a soft or ultra-soft bristled toothbrush and use a gentle brushing motion to avoid damaging your smile's soft tissues.
Make sure to floss both sides of each tooth to the gum line to remove plaque and food stuck between teeth but take care not to damage the soft tissue. Use a waxed floss or an air or water flosser to avoid tugging around the edges of your porcelain veneers.
Have a Checkup and Cleaning Twice a Year
In addition to your daily at-home care, you should also visit your trusted family dentist in Greenbelt, MD twice a year for comprehensive dental exams and thorough, professional teeth cleanings. During these visits, we'll examine your veneers to ensure they are still firmly in place and functioning flawlessly. We can also address concerns that arise in the early stages when we may be able to repair the veneer rather than needing to replace it.
Wear Protective Oral Appliances
If you're an athlete, you may want to consider wearing a sports guard during athletic practices and competitions. Those who compete in contact sports like hockey or football are likely already doing this, but you should use sports mouthguards to protect your smile during any sport where your smile might come into contact with other players, sporting equipment, or hard surfaces. Store-bought options are available, and our dentists can also create comfortable, custom solutions to protect your new porcelain veneers.
Those who grind or clench their teeth during sleep should also use an oral appliance to protect their porcelain veneers. Nighttime teeth grinding and clenching, known as bruxism, can wear down teeth, create deeper pits and grooves in biting surfaces, and expose your smile to risk for dental damage and tooth decay. Wearing a custom mouthguard while you sleep will protect your new porcelain veneers from damaging teeth grinding and clenching.
Avoid Bad Habits
You will need to avoid some troublesome dental habits that put you at greater risk for dental damage. If you chew on your fingernails, ice chips, pen caps, or other hard objects when you're nervous, you may chip your veneer or cause the cement to break down, allowing the veneer to pull away from the tooth. Using teeth to open packages or crack nuts can also lead to possible smile damage. Avoid these habits to keep your smile and porcelain veneers whole and beautiful.
Dietary Changes
You should pay attention when eating with your new porcelain veneers in place. Try to chew hard or sticky foods with your back teeth to avoid placing any unnecessary pressure on your veneers. Even though porcelain veneers are stain-resistant, you may still want to limit your consumption of staining foods and beverages (coffee, red wine, berries). These items will discolor surrounding teeth and the cement that holds your veneers in place. Additionally, these highly pigmented foods and beverages are often very acidic. Consumption of acidic foods and beverages can increase your risk for a whole range of oral health concerns.
Benefits of Veneers
Still not sure that porcelain veneers are the right solution for your smile? We encourage you to schedule a cosmetic dentistry consultation with one of our friendly cosmetic dentists to discuss your treatment options. We can help you create a personalized plan to achieve your most beautiful smile. In the meantime, take a few moments to consider the following benefits of porcelain veneers:
Compared to the more conservative cosmetic dental bonding, porcelain veneers are more durable, longer lasting, and stain resistant. This makes them a better option for those who want to address multiple smile flaws with one treatment.
Compared to dental crowns, porcelain veneers offer a more conservative solution, allowing us to maintain a greater amount of natural tooth structure.
The treatment process is quick and conservative. In most cases, we can place the veneers with just local anesthesia.
Porcelain veneer placement can improve your oral health. People with flawless smiles are more likely to care for their teeth thoroughly, reducing risk for oral health concerns. Crooked or unevenly spaced teeth can also be difficult to care for, so correcting your smile with veneers may make them easier to keep clean and free from decay and damage.
The final result after porcelain veneer placement should look just like your natural smile – only even more beautiful.
Quality porcelain materials should not irritate soft tissues like some other materials.
The use of high-quality, stain-resistant porcelain means your smile will look bright and beautiful for years to come.
The custom shading and shaping ensures your veneers blend seamlessly into your smile.
Veneers make it possible for us to quickly address numerous smile flaws (chips, cracks, stains, and gaps) with just a few visits to our dental office.
The additional porcelain layer of your veneers can protect and strengthen teeth that have been worn or damaged.
Cost of Porcelain Veneers
The cost of porcelain veneers will depend on your treatment plan. Factors that influence the cost of your plan include the number of veneers, the material used, and whether or not you use local anesthetic and/or sedation dentistry. During your consultation appointment, we'll walk through your treatment plan and pricing. Our team is happy to offer a range of affordable payment options to help you fit porcelain veneers into your budget.
Does Dental Insurance Cover Porcelain Veneers?
Unfortunately, most dental insurance plans will not offer coverage for cosmetic dentistry solutions. However, our team will do what we can to maximize any available benefits for treatment components like x-rays and local anesthesia to offset the cost of your treatment plan. Additionally, we offer a variety of payment options to help you budget for the cost of your smile makeover.
Frequently Asked Questions About Porcelain Veneers
Before getting started with a complex smile makeover plan, we know you'll have questions for our knowledgeable dentists. We'll be happy to provide answers to your questions during your consultation appointment and throughout the porcelain veneer treatment process. For your convenience, we've provided answers to frequently asked questions about porcelain veneers below:
Who Is a Good Candidate For Porcelain Veneers?
Just about anyone can be a good candidate for porcelain veneers, but no treatment is right for every patient. Some things to consider when determining whether or not porcelain veneers are your ideal solution include:
The process is not reversible, so you should be ready to commit to a semi-permanent solution.
Porcelain veneers may be more expensive than other cosmetic dentistry solutions like dental bonding or teeth whitening.
The coloring of porcelain veneers will not change after placement. If you whiten your smile, the other teeth may be a different shade than your veneers.
Those who suffer from tooth decay, gum disease, or other chronic oral health concerns will likely need to repair or replace porcelain veneers much more frequently.
How Many Veneers Will I Need?
The number of porcelain veneers we recommend depends on your goals. Some people may need just one veneer to cover a chipped or irregularly shaped tooth. Others may want to cover all of the teeth visible when they smile. The most visible teeth, usually the front-facing four on the top and bottom, are the most obvious when you share a smile, so placing veneers over these teeth can completely transform your appearance.
Are Porcelain Veneers Permanent?
Unfortunately, porcelain veneers are not permanent, but because we use high-quality materials, our veneers are durable, stain resistant, and long-lasting. Depending on the individual and the type of porcelain veneers used, the results can last as long as 15 years before they need to be repaired or replaced.
Will My Porcelain Veneers Look Natural?
We use only the highest quality materials, and while we craft veneers to improve your smile's natural appearance, we always want them to blend seamlessly into your smile. After your veneers are in place, your teeth should look just like they would naturally only even more beautiful.
Are There Alternative Cosmetic Dentistry Solutions?
Absolutely. We offer a full range of cosmetic dentistry solutions to address any irregularities and create a flawless smile. During your consultation, we'll review all of your options, including teeth whitening, dental bonding, and Invisalign clear braces.