Veneers – Greenbelt, MD
Transform Your Smile Quickly & Completely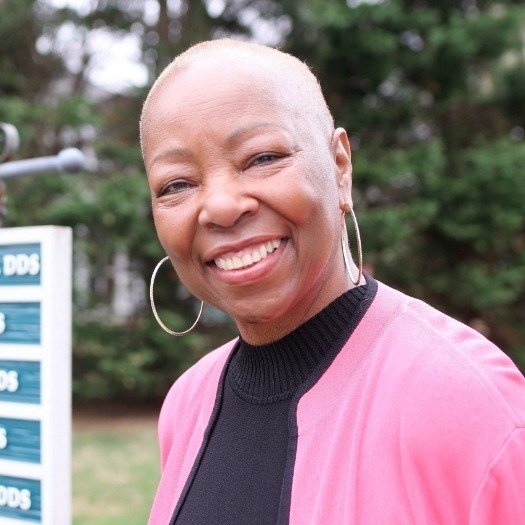 No Prep Thin Porcelain VeneersMinimal Prep Thin Veneers
At McCarl Dental Group, dentistry patients know they can rely on us for all of their dental needs, including a wide range of cosmetic dental services like porcelain veneers. We create personalized cosmetic dentistry plans to deliver picture-perfect smiles that will improve your confidence and make it possible for you to share a brilliant smile in any situation and make a great impression with every smile. When you're ready to learn more, call our caring dentists and team in Greenbelt, MD to schedule a cosmetic dental consultation in our state-of-the-art, family-friendly dental office.
What are Porcelain Veneers?
Veneers are cosmetic dental restorations crafted from thin layers of custom-shaded, tooth-colored porcelain or composite resin materials that are affixed to the front surfaces of your teeth to improve the shape, color, alignment, and overall appearance of your smile. Porcelain veneers are permanently bonded to your teeth, and they are an effective treatment option to address a number of cosmetic flaws in just a few short appointments. Minimally invasive, porcelain veneers also allow us to protect remaining healthy tooth structure.
Types of Veneers
No treatment is right for every patient. At McCarl Dental Group, we believe one of the keys to creating beautiful smiles is recognizing that there's no such thing as one size fits all treatment, so if you decide to move forward with porcelain veneers, we'll create a personalized treatment plan, which may include many different types and brands of veneers, including the following options:
Traditional Veneers
Traditional porcelain veneers resemble a fingernail in density. They can be placed within the smile line with the removal of only a small amount surface tooth structure under local anesthesia. This allows the veneer to lay flat within the smile. However, the removal of surface tooth enamel means traditional veneer placement is not a reversible process.
Thin or Minimal Prep Veneers
Thin veneers, sometimes called minimal prep or no prep veneers, are about the size of a contact lens. Their ultra thin design means we can often affix thin veneers without the removal of any surface tooth enamel, which means the procedure can sometimes be completed without any local anesthesia. Additionally, treatment using minimal prep veneers can usually be reversed. However, these veneers aren't always effective in correcting darkly stained or discolored teeth or concealing larger areas of dental damage or cosmetic flaws.
Combo of Traditional & Thin Veneers
In order to create the ideal smile makeover plan for your individual needs, we can even combine both traditional and thin porcelain veneers as part of the same custom cosmetic dentistry plan.
Uses for Porcelain Veneers
As always, our knowledgeable cosmetic dentists in Greenbelt don't recommend the same treatment plan for every dental patient. During an initial consultation, we'll examine your smile and help you find the best solution. Some of the smile irregularities that can be corrected using porcelain veneers include:
Teeth Whitening – even if your deeply stained teeth aren't responsive to traditional teeth whitening solutions, porcelain veneers can create a brilliant white smile.
Instant Orthodontics – veneers can close gaps between teeth and correct minor smile misalignment instantly without the need for traditional braces.
Correcting Wear & Tear – every day we chew hard objects, drink acidic beverages, and use our teeth for tasks they weren't made for like opening packages. This can cause a number of small chips, cracks, and breaks in a tooth's surface. Veneers can conceal all of these irregularities, perfecting and repairing the smile.
Improved Appearance After Dental Damage – after root canal therapy, the tooth may appear darker at the gum line. Facial trauma that injures a tooth may cause it to darken even if there is no need for repair. Additionally, tooth-colored composite restorations can discolor over time. Porcelain veneers can correct the appearance of these dental restorations and darkened tooth enamel.
Irregular Tooth Shape – for teeth that have been worn through grinding and clenching, those that are larger or smaller than surrounding teeth, and those that have always had irregular craters or bulges, porcelain veneers can create a smooth, even smile line.
Benefits of Porcelain Veneers
Still not sure that porcelain veneers are the right solution for your smile? We encourage you to schedule a cosmetic dentistry consultation with one of our friendly cosmetic dentists to discuss your treatment options. We can help you create a personalized plan to achieve your most beautiful smile. In the meantime, take a few moments to consider the following benefits of porcelain veneers:
Compared to the more conservative cosmetic dental bonding, porcelain veneers are more durable, longer lasting, and stain resistant. This makes them a better option for those who want to address multiple smile flaws with one treatment.
Compared to dental crowns, porcelain veneers offer a more conservative solution, allowing us to maintain a greater amount of natural tooth structure.
The treatment process is quick and conservative. In most cases, we can place the veneers with just local anesthesia.
Porcelain veneer placement can improve your oral health. People with flawless smiles are more likely to care for their teeth thoroughly, reducing risk for oral health concerns. Crooked or unevenly spaced teeth can also be difficult to care for, so correcting your smile with veneers may make them easier to keep clean and free from decay and damage.
The final result after porcelain veneer placement should look just lie your natural smile – only even more beautiful.
The quality porcelain materials should not irritate soft tissues like some other materials.
The use of high quality, stain resistant porcelain means your smile will look bright and beautiful for years to come.
The custom shading and shaping ensures your veneers blend seamlessly into your smile.
Veneers make it possible for us to quickly address numerous smile flaws (chips, cracks, stains, and gaps) with just a few visits to our dental office.
The additional porcelain layer of your veneers can protect and strengthen teeth that have been worn or damaged.
The Porcelain Veneers Process
Each person's porcelain veneer treatment will be unique, but many smile makeovers with veneers are completed in just two to three visits with our Greenbelt cosmetic dentist. In most cases, we'll invite you in first for a cosmetic dentistry consultation to review your treatment options. Then, the veneers will be placed over the course of one or two additional visits, depending on your treatment plan. While every patient experience will be different, read more about the typical porcelain veneer process here.
What to Expect After Porcelain Veneer Placement
In most cases, you can go right back to your daily routine after your porcelain veneer placement appointments. If you received numbing with local anesthesia, take special care to avoid biting down too hard and avoid chewing on your cheeks or tongue, which may still be numb. Immediately following placement, you may notice that the veneers feel a little rough or there are sharper spots. This is typically from the cement used to affix your veneers, and if we don't remove all of this at your appointment, it should wear down after a few days. If there is still a rough spot after the first week, call our dental office. If tooth enamel has been removed during preparation, your tooth may become more sensitive to hot and cold foods and beverages, but this typically becomes less noticeable after the first few weeks. If sensitivity is ongoing, extremely painful, or it gets worse, let our team know.
How to Care for Porcelain Veneers After Placement
Cost of Porcelain Veneers
The cost of porcelain veneers will depend on your individual treatment plan. Factors that influence the cost of your plan include the number of veneers, material used, and whether or not you use local anesthetic and/or sedation dentistry. During your consultation appointment, we'll walk through your individual treatment plan and pricing. Our team is happy to offer a range of affordable payment options to help you fit porcelain veneers into your budget.
Does dental insurance cover porcelain veneers?
Unfortunately, most dental insurance plans will not offer coverage for cosmetic dentistry solutions. However, our team will do what we can to maximize any available benefits for treatment components like x-rays and local anesthesia to offset the cost of your treatment plan. Additionally, we offer a variety of payment options to help you budget for the cost of your smile makeover.
Frequently Asked Questions About Porcelain Veneers
Before getting started with a complex smile makeover plan, we know you'll have questions for our knowledgeable dentists. We'll be happy to provide answers to your questions during your consultation appointment and throughout the porcelain veneer treatment process. For your convenience, we've provided answers to frequently asked questions about porcelain veneers below:
Who is a good candidate for porcelain veneers?
Just about anyone can be a good candidate for porcelain veneers, but no treatment is right for every patient. Some things to consider when determining whether or not porcelain veneers are your ideal solution include:
The process is not reversible, so you should be ready to commit to a semi-permanent solution.
Porcelain veneers may be more expensive than other cosmetic dentistry solutions like dental bonding or teeth whitening.
The coloring of porcelain veneers will not change after placement. If you whiten your smile, the other teeth may be a different shade than your veneers.
Those who suffer from tooth decay, gum disease, or other chronic oral health concerns will likely need to repair or replace porcelain veneers much more frequently.
How Many Veneers Will I Need?
The number of porcelain veneers we recommend depends on your goals. Some people may need just one veneer to cover a chipped or irregularly shaped tooth. Others may want to cover all of the teeth visible when they smile. The most visible teeth, usually the front-facing four on the top and bottom, are the most obvious when you share a smile, so placing veneers over these teeth can completely transform your appearance.
Are porcelain veneers permanent?
Unfortunately, porcelain veneers are not permanent, but because we use high quality materials, our veneers are durable, stain resistant, and long lasting. Depending on the individual and the type of porcelain veneers used, the results can last as long as 15 years before they need to be repaired or replaced.
Will my porcelain veneers look natural?
We use only the highest quality materials, and while we craft veneers to improve your smile's natural appearance, we always want them to blend seamlessly into your smile. After your veneers are in place, your teeth should look just like they would naturally only even more beautiful.
What's the difference between traditional and minimal prep veneers?
The main difference is in the size of the veneer itself. Traditional porcelain veneers are about the size and thickness of a fingernail. A minimal prep veneer is comparable in size to a contact lens. Because the minimal prep veneers are thinner, they can usually be placed without the need to remove tooth enamel, which is necessary prior to traditional veneer placement. However, the thinness of minimal prep veneers means they aren't an appropriate solution for every cosmetic dentistry plan.
Are There Alternative Cosmetic Dentistry Solutions?
Absolutely. We offer a full range of cosmetic dentistry solutions to address any irregularities and create a flawless smile. During your consultation, we'll review all of your options, including teeth whitening, dental bonding, and Invisalign clear braces.