Root Canals – Greenbelt, MD
Restore a Healthy Smile & Feel Like Yourself Again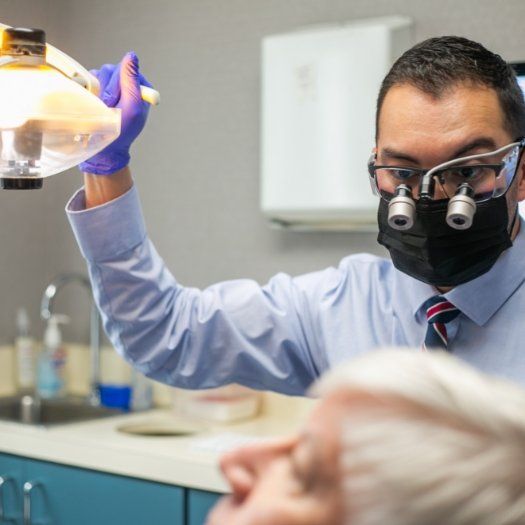 Over the years, root canals have gotten a bad reputation in the dental field. In fact, the saying, "I'd rather have a root canal," is used to indicate wanting to avoid something very painful. It's no secret that our patients don't like to hear a root canal recommendation, but at McCarl Dental Group, we bring the same level of skill, expertise, and gentle treatment to root canal treatments in Greenbelt that our patients have come to expect from other dentistry services with our team. If you're in need of a root canal, our skilled dentists and team of smile specialists will make the process comfortable for you. Many of our root canal patients visit us as emergency dentistry patients, so don't hesitate to contact us right away (night or day) if you're in pain and worry you may need root canal therapy.
Why Choose McCarl Dental Group for Root Canal Therapy?
Team of gentle, caring dentists
Complete comfort with sedation dentistry options
Urgent dental appointments available to relieve pain fast
Why Would I Need a Root Canal?
A root canal is a treatment used to repair and save a tooth that has become infected or is badly decayed. Specifically, root canals are recommended when a tooth's damage or decay reaches the soft inside layer of the tooth called "dental pulp." The nerve structure of the tooth is housed within the pulp, and it runs out to the rest of the body through the root structure of the tooth. When damage and decay irritate the nerve of the tooth, the result is the pain, swelling, and sensitivity that people so often relate to root canals. The only way to know for sure that root canal is the right treatment for you is to visit our team for an examination, but we encourage you to contact us right away if you experience any of the following symptoms:
Throbbing pain sometimes described as feeling like a pulse inside the tooth
Sensitivity when the tooth is exposed to hot or cold temperatures
Darkening of the tooth, often at the gum line
Infection or inflammation of the gum tissue around the tooth
Other signs of infection, including fever, nausea, and inflammation
The root canal procedure can eliminate the discomfort from an infected tooth. If you are experiencing discomfort or swelling from an infected tooth it is best to call to schedule a dental consultation and treatment as soon as the discomfort begins. A dental infection can spread to other areas and become a serious health concern.
Do Root Canals Hurt?
The pain associated with root canal therapy is actually related to the infection or damage to the tooth's nerve not the procedure itself. Root canals are routine procedures performed by our capable Greenbelt dentists at the McCarl Dental Group. Even apprehensive dental patients appreciate the skill, patience, and kindness shown by McCarl Dental Group dentists. We understand your apprehension and take great pride in our ability to treat our patients with the utmost care and respect. The Drs. McCarl have won many local and national Top Dentist and Best Dentist awards over the years, meaning you'll only receive the best in your time of need. Our dentists can perform root canal procedures quickly and precisely, and most patients report feeling much better almost immediately after their root canal.
What Happens During Root Canal Therapy?
Our Greenbelt dentists perform root canals when the nerve of the tooth becomes infected or the pulp becomes damaged. During the procedure, the nerve and pulp are removed, and the inside of the tooth is cleaned and sealed. In extreme cases, we may need to prescribe oral or topical antibiotics to ensure all infection is removed before we finalize your root canal treatment. Even though the pulp of the tooth is replaced during root canal, the structure of the tooth may be weakened by this procedure. For this reason, we typically place a dental crown over the top of the root canal treated tooth. This provides an added layer of protection from additional damage, keeping the tooth whole and healthy after root canal.
I'm in Pain, and I Might Need a Root Canal – Can You Help Me Right Away?
If you're in discomfort, don't hesitate to call our dental office in Greenbelt today for a root canal consultation. The McCarl dentists in Greenbelt, Maryland offer convenient evening and weekend hours. Whenever possible, we provide same-day emergency dental care for those patients who need root canal therapy to ensure any infection is halted, pain is relieved, and we start getting your smile back on track right away.