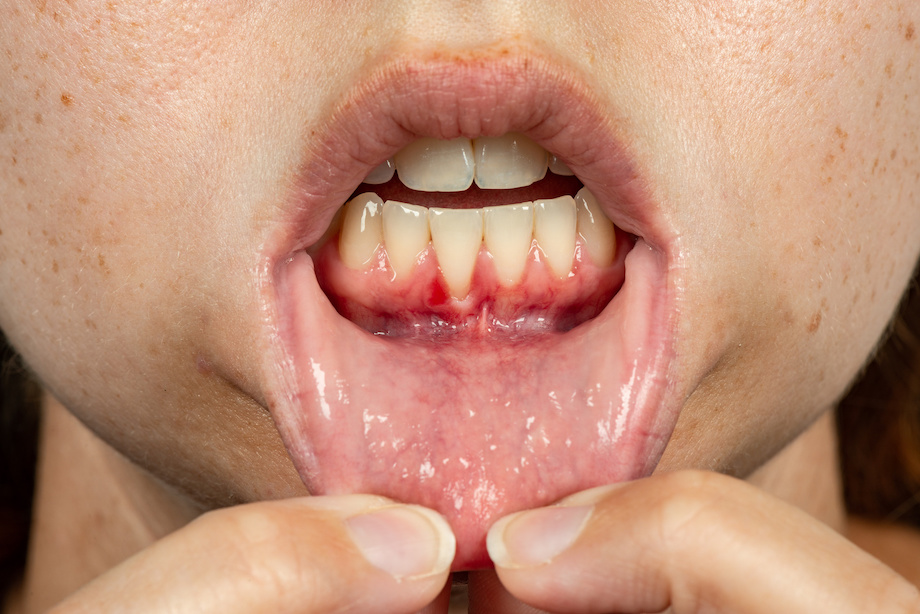 Bleeding when you floss can occur for a number of reasons. You may be moving the floss a little too aggressively, which can injure the soft tissue. You may have a soft tissue sore or cut that is irritated by flossing, or you may have an infected (abscessed) tooth that is impacting your gum tissue. However, periodontal (gum) disease is, by far, the most common reason for gums to bleed while flossing. Actually, gum disease is one of the most common oral health conditions in the world, and it is the leading cause of tooth loss in U.S. adults. February is Gum Disease Awareness Month, and in this blog, we'll take a closer look at what gum disease is, who's at risk, and how to keep your smile whole and healthy with periodontal therapy from your trusted family dentist in Greenbelt, MD.
What is Gum Disease?
Periodontal disease is an oral health condition that affects the supportive tissues (gum and bone) that keep your smile stable and healthy. Gum disease is caused by plaque and tartar (calculus) buildup on teeth around the gum line. Over time, the acidic buildup irritates and damages the supportive tooth structures, leading to receding gums and diminished bone density. Left untreated, the damage will progress, allowing teeth to shift within their sockets, and eventually, a tooth cold fall out completely.
Do I Have Gum Disease?
In addition to gums that bleed when you brush, some of the warning signs of gum disease you should be aware of include the following:
Red, purple, or discolored soft tissue
A gum line that looks uneven or teeth that appear longer due to soft tissue recession
Teeth that feel loose or a bite that shifts
Sores or infection in the soft tissue
Chronic bad breath that doesn't improve after brushing
How is Gum Disease Treated?
In the earliest stages, called gingivitis, gum disease will usually improve with a deep cleaning from your dentist and improved at-home hygiene. In the more advanced form, called periodontitis, you may need to receive an even deeper professional cleaning known as scaling and root planing and antibiotic therapy. People who struggle with periodontal disease may need to visit our dental office every three to four months for deep cleanings, and we will likely partner with them to develop more thorough at-home hygiene routines.
How do I Care for My Smile at Home?
In order to prevent gum disease and control side effects of gum disease, keep the following at-home oral hygiene tips in mind:
You should brush teeth at least two minutes at a time twice a day. For best results, brush teeth between meals.
Use soft bristled toothbrushes and avoid brushing too hard, as damaging sensitive tissue can increase risk for gum disease.
Floss at least once each day.
Use a floss that works for your smile. If you have larger gaps between teeth, use a more fibrous, thicker floss. If your teeth are close together, use a waxed floss.
Visit your dentist twice a year for checkups and professional teeth cleanings.
Meet the McCarl Dental Group
In Greenbelt, MD, dentistry patients have relied on the McCarl Dental Group team for all of the oral healthcare needs. From regular preventive dental checkups to advanced periodontal therapy, we can help you and your loved ones achieve and maintain healthier smiles. If you're interested in learning more, contact our team today. We look forward to hearing from you.