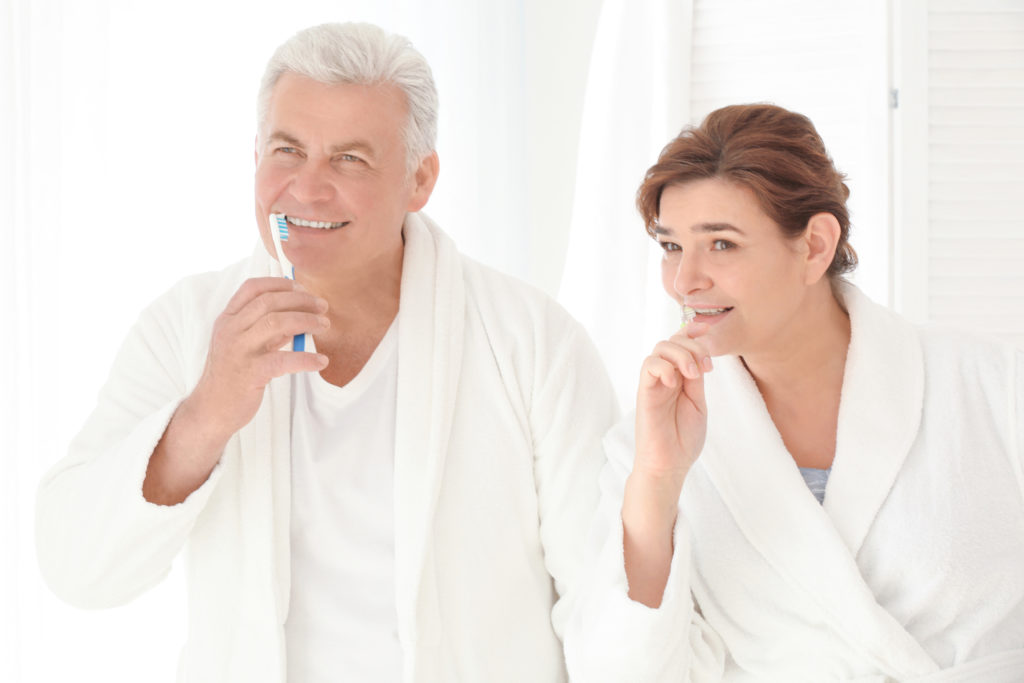 Stopping oral health concerns before they begin is essential year round, but during Thanksgiving and the holiday season, it's especially important to show your smile a little appreciation by taking extra preventive dentistry steps. Keep reading to the learn the top five tips from our dentists to keep your smile healthy at Thanksgiving, through the holiday season, and year round.
1 – Avoid Dental Damage & Decay by Flossing Frequently
It's important that you floss at least once a day to prevent plaque and bacteria from accumulating between teeth. Many holiday foods are sticky or prone to getting caught between teeth, so flossing is even more important. By keeping floss handy during holiday meals, you can quickly remove stuck on food from between teeth to prevent dental damage.
2 – Minimize Consumption of Sugary & Sticky Foods
Foods like cranberry sauce and pecan pie that are popular at holiday meals are sugary, acidic, and sticky. This combination can be extremely harmful to teeth. Whenever possible, limit your consumption of these potentially harmful foods, and make sure you drink plenty of water after eating or drinking sugary or sticky items to remove them from teeth. You should also floss and/or brush your teeth between meals.
3 – Pile on the Fruits, Nuts & Vegetables
The good news is that, while many holiday foods are tough on teeth, there are also many Thanksgiving favorites that are great for your smile. While indulging in some of the sweet treats and starchy comfort foods is okay in moderation, make sure that the majority of your holiday meals and snacks are made up of tooth healthy fruits, nuts and vegetables. These foods are less acidic and sugary, so they are better for your teeth in general.
4 – Limit Consumption of Wine & Other Acidic Foods & Beverages
Wine, sugary citrus drinks, and other foods and beverages consumed during the holidays can be highly acidic, leading to weakened tooth enamel and increased risk for tooth decay. Consume acidic foods and drinks in moderation, and take care to drink plenty of water to rinse these products off of teeth. You should also brush and floss teeth after consuming these items. If you don't have time brush between meals, consider keeping dental floss handy to use between meals to minimize any damage from acidic foods and beverages.
5 – Boost Your Daily Oral Hygiene Routine
You may have noticed that many of these recommendations include adding extra steps to your regular oral hygiene routine. In addition to brushing teeth for two minutes at a time twice a day and flossing at least once each day, you can take some extra at-home oral hygiene steps, including:
Flossing between meals, especially if you eat fruits, seeds, sticky candies, or sugary foods that are prone to getting stuck between teeth
Brushing teeth between meals, so the bacteria and plaque in the mouth don't have the opportunity to damage teeth
Using an oral rinses to neutralize acidic foods and drinks and minimize bacteria and plaque buildup on teeth
Drinking plenty of water and/or rinsing your mouth out with water if you don't have time to brush and floss
Protecting your smile by wearing nightguards for teeth grinding and clenching and athletic mouthguards if you engage in contact sports
Bonus Tip to Appreciate Your Smile – Visit McCarl Dental Group
If it's been six months or longer since your last preventive dentistry visit, it's time to give the McCarl Dental Group team a call. During dental checkups and teeth cleaning visits twice a year, we can partner with you to prevent oral health concerns and provide conservative treatments in the earliest possible stages.