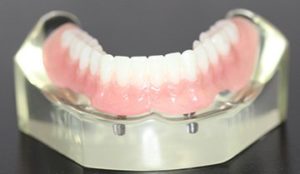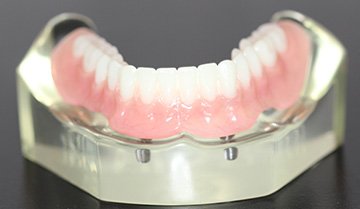 If you've just gotten your first set of partial or full dentures, you're likely experiencing a strange mix of emotions. You're happy to be able to share a smile again. You're worried about shifting teeth while eating meals in public with friends and family members, and you're concerned you aren't speaking clearly any longer. Most patients get used to their dentures fairly quickly, but if you're struggling to adjust, we're here to help. In this post, we'll discuss some tips to help you achieve ideal denture function, so you can speak, chew, or smile with complete confidence and comfort.

Consuming a Varied Diet
One of the main concerns experienced by patients with a new set of partials or full dentures is that they will not be able to eat a varied, nutritious diet. Most dentures are able to restore healthy chewing function, but there are some things you can do to improve your chewing ability. The first is to start small. Begin by consuming softer foods. Then, gradually introduce more difficult to chew foods into your diet as you get used to your denture and build the muscles that control your dental prosthetic. In some cases, denture wearers experience improved stability while chewing by introducing a small amount of denture adhesive, but a properly fitted denture may function without adhesive.
Speaking & Smiling with Confidence
Many patients struggle to speak clearly or smile without experiencing denture shifting for the first few weeks. A great way to develop better control of your denture is to sing. It may sound silly, but speech therapists have used singing to help patients with a variety of speech difficulties for decades. Singing is a great option to help patients with dentures develop their muscles in order to speak clearly and smile confidently.
Keeping Your Dentures Clean
Keeping your partial or full denture clean involves daily brushing at night before going to sleep, and in the morning before the denture is replaced. You may also want to brush between meals to prevent any food items from being stuck in your denture. You should store the denture in cool water or cleaning solution overnight to prevent bacteria production or plaque buildup. Always use cool or room temperature water to clean your denture as extremely hot water can warp the malleable base material.
Meet the McCarl Dental Group Team
At McCarl Dental Group in Millersville, we are here to help our denture wearing patients with all of their oral health and function needs. We truly go the extra mile to help our patients adjust in any situation, including the first few weeks of denture wear. If you want to learn more about tooth replacement options or get tips to help you adjust to dentures, call our office in Millersville or Greenbelt to schedule a tooth replacement consultation today. We look forward to helping you find more reasons to smile.