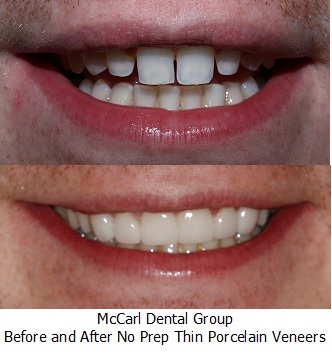 Most people have one or more things they want to change about their smiles, but they worry that cosmetic dentistry will be complicated, painful, or look unnatural. Porcelain veneers offer a simple cosmetic dentistry option that can be completed in just a few visits to our dental office, the treatment is comfortable and conservative, and the results are gorgeous. Many people who choose porcelain veneers say they never thought such an easy procedure could completely transform their appearance. In this blog, we'll walk through the quick and conservative porcelain veneer treatment process.
1 – Your Consultation Visit
Before we get started with any cosmetic dentistry treatments, you'll need to schedule a consultation visit. During these initial appointments, we'll review all of your cosmetic dentistry goals and dentistry options, including porcelain veneers. Because porcelain veneers are so versatile, they're recommended to correct a range of cosmetic flaws, including chips, cracks, stains, and gaps in your smile.
2 – Smile Preparation
If we determine that porcelain veneers are the best option for your cosmetic dentistry goals, we'll need to prepare your smile and capture digital scans and images. Depending on the type of recommended dental veneer, we may need to remove a small amount of surface tooth enamel to accommodate the restoration. However, there are low-prep veneer options available for many patients that require little to no enamel removal. Once your teeth are prepared, we take digital scans and begin the smile design process.
3 – Porcelain Veneer Design
Once your smile is prepared, we'll use these digital scans to design your porcelain veneers. Our design will include the shape and shade for your final porcelain veneer. If we needed to remove any tooth enamel during the preparation process, your cosmetic dentist will place a temporary porcelain veneer to protect your smile until the final restoration is returned from our lab.
4 – Porcelain Veneer Creation
We work with a skilled dental lab team who have expertise delivering exceptional, quality dental restorations for our patients. They utilize the highest-quality materials and advanced techniques to craft porcelain veneers that meet our exact specifications and give our patients the beautiful smile they're looking for.
5 – Placing the Porcelain Veneers
Finally, you'll return to our dental office for the placement of your custom porcelain veneers. To ensure your comfort, we may apply local anesthetic (numbing) to the treatment area. When necessary, we remove any temporaries. Then, your cosmetic dentist carefully cements the porcelain veneers into place over your smile. If you're happy with the look and feel of your veneers, we'll polish your smile and make any minor adjustments to ensure your new bite fits together naturally. Finally, you'll leave our dental office with a picture-perfect smile.
Meet the McCarl Dental Group Team
The trusted dentists and knowledgeable dentistry team at McCarl Dental Group partner with patients to create beautiful smiles they're proud to share. Porcelain veneers allow our trusted cosmetic dentist in Greenbelt, MD to completely transform just about any dental imperfections, leaving people with gorgeous smiles. If you're ready to get started, give our dental team a call today.