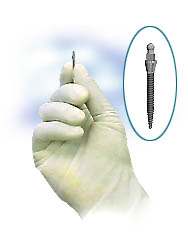 Many patients still think of dental implant supported tooth replacement as a new and unproven treatment, but dental implants have been common dental practice for decades. Actually, some archaeologists believe the ancient Mayans performed implant dentistry thousands of years ago. Today, dental implant placement techniques and the materials used have advanced profoundly. Those who are relatively healthy overall and who have adequate jawbone volume and density to support implant posts, have a 96% rate of success. There are some things patients can do to increase their chances for successful dental implant restoration, and the McCarl Dental Group team is happy to help.

Post-Operative Care
Following the surgical placement of dental implants and the restoration of missing teeth, patients will be given a personalized recovery plan to ensure their smiles heal quickly and comfortably. While post-operative treatments are unique for each patient following implant placement, patients should typically do the following:
Use ice packs or cold compresses at 20 minute intervals (20 on/20 off) for the first 48 hours to reduce swelling and discomfort
Over the counter pain relievers are often enough to help patients manage pain following implant placement or restoration, but we typically prescribe a stronger pain relief medication to help patients for the first few days
Rinse the surgical site carefully with warm water for the first 48 hours.
Avoid brushing and flossing the treated area for the first week or until it is comfortable to brush and floss
Do not chew food on the implant site while still tender
Oral Hygiene for Dental Implants
Once the implant placement and smile restoration process is completed, patients should brush and floss their teeth as usual. Those patients with more complex tooth loss who choose removable partial and full dentures, should care for their implant supported dentures in the same way they would traditional partial and full dentures. If patients need specialized hygiene products like water flossers or dental-grade antimicrobial mouth rinses, our team will explain these items and why we recommend them to preserve optimal oral health. It is essential that patients remember to contact our team right away if they notice any potential areas for concern including:
Implant posts become visible above the gum line
Prosthetic teeth feel lose, chip, crack, or break
Replacement teeth appear dark or discolored or the implant post is visible through the prosthetic
Teeth or gums around dental implants are in pain or experience severe sensitivity or discomfort due to changes in temperature
Contact Your Millersville Implant Dentist
McCarl Dental Group is happy to offer patients skilled dental care for even the most advanced oral health concerns including dental implant supported tooth replacement. Contact our knowledgeable dentistry team to find out more or schedule your dental implant consultation today.