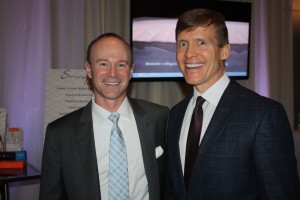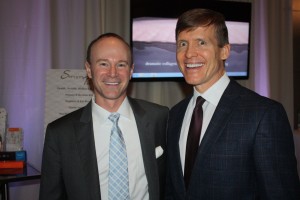 If you've ever had a spa day, you have some idea what the atmosphere was like at the Loews Annapolis Hotel on September 25th for The Look 2015. Anne Arundel County women attended from Annapolis, Severna Park, Crownsville, Gambrills and Severn, Maryland for a night of health and beauty seminars, fashion and fun. This year's festivities included free champagne and hors d'oeuvres, eye brow waxing, manicures, and more. Dr. Jay McCarl, Dr. Clayton McCarl and Dr. Diana Lee attended the event offering women the opportunity to enjoy a complimentary smile analysis and consultation." We had a great time helping people understand the smile transformation opportunities available from our Greenbelt and Millersville Maryland cosmetic dentists. We invite our community to contact us for a smile analysis with a smile makeover consultation.

McCarl Dental Group Dentists Help Annapolis Area Women Learn About Their Smiles
The Look 2015 included services from many of the Annapolis, Millersville, Crofton and Odenton and surrounding area's most luxurious spas, salons. The cosmetic dentists at McCarl Dental Group at Shipley's Choice were joined by Annapolis cosmetic surgeons Dr. Henry Sandal, Dr. Kelly Sullivan, Dr. Orin M. Zwick and Dr. Orin Zwick. Other health professionals included MedStar Health Cardiology Associates, Anne Arundel Medical Center, MD Dermatology of Maryland, and Skin Oasis Dermatology, among others. It was an excellent opportunity for the people who attended to have one-on-one time to ask questions to top doctors and dentists in Annapolis, Severna Park and nearby Millersville, Maryland.
Dentists from the McCarl Dental Group offered individual smile analysis and smile makeover consultation to anyone who had questions or concerns about their teeth. Many couldn't believe how comfortable and quick achieving a beautiful smile can be. One example is the use of porcelain veneers to conceal cracked, chipped, stained, or poorly shaped teeth. For instance, many patients visit our offices believing they need orthodontic treatment like Invisalign. Sometimes they do need to straighten crooked teeth. Other times, there is no underlying alignment issue even when teeth appear to be out of position. When we examine and take images of patients' teeth, we often realize it's the shape of teeth and gums effecting the appearance of smiles rather than the teeth being out of alignment. In these cases, porcelain veneers may be a better choice to quickly transform smiles.
How to Get a Celebrity Smile Makeover in Millersville, Maryland
The dentists at McCarl Dental Group have transformed the smiles of some of our local celebrities who appear on national television. Severna Park, Annapolis and Millersville residents also have the opportunity to visit McCarl Dental Group for a free initial smile consultation. We are always happy to share knowledge from our advanced dental training and years of experience regarding cosmetic dentistry to patients from surrounding communities. If you are interested in receiving excellent cosmetic dentistry services, we invite you to schedule a smile consultation today. If you're unhappy with any aspect of your smile, let our Greenbelt and Millersville, MD cosmetic dentistry professionals help you get the smile of your dreams. During a cosmetic consultation, we'll use digital x-rays, specialized dental photographs and visual analysis to help you understand your smile enhancement and correction options.
Picture-Perfect Smiles From Annapolis to Greenbelt to Millersville, Maryland
If you weren't able to attend The Look 2015, we hope to see you there for the fun, fabulous, premier girl's night out event in 2016. For patients who want to learn more about enhancing their smile in 2015, call to schedule your free initial smile analysis and dental consultation today.