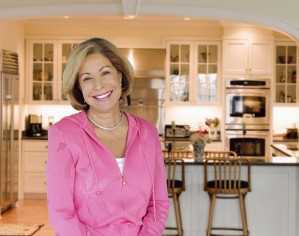 Adults are one of the fastest growing groups of people straightening their teeth. Invisalign orthodontics are clear braces that straighten teeth like traditional metal braces, but clear Invisalign trays are practically invisible.
Nancy had healthy, attractive teeth but noticed, like many adults, that her teeth had shifted over the years. Invisalign orthodontics are not just for straightening extremely crooked teeth – it is an ideal solution for a minor correction too. Now, after Invisalign treatment, Nancy has a beautiful straight smile again.  When discussing her orthodontic treatment, Nancy said, "I have been happy with the results of my straightened smile. The dentists at McCarl Dental Group are considerate, competent professionals devoted to their patient's well being, creating bright and beautiful smiles, one dental patient at a time."
Many adults would like to correct some aspect of their teeth to have a straighter, more appealing smile – but few want to experience the hassle, awkwardness and discomfort of traditional braces. Invisalign is an excellent solution for a straighter beautiful smile, without the drawbacks of traditional metal braces. Many of our patients achieve their desired results in just 4-6 months. The average Invisalign treatment takes 12 months.

Benefits of Invisalign Orthodontics:
Aligners (Clear Trays) are Removable – Traditional metal braces are fastened to the teeth for years at a time, whereas Invisalign aligners are clear, removable trays that are shaped like a mouth guard fitting snugly over the teeth.
Straight Teeth are Healthier – Straight teeth are easier to clean and contribute to overall oral health. Crowded or crooked teeth are more difficult to brush and floss effectively, increasing the likelihood plaque build-up, tooth decay and gum disease or even periodontal disease. Crowded, widely-spaced and missing teeth can inhibit normal chewing, cause abnormal wear and contribute to painful jaw problems, including TMJ disorders.
Flexible –Fits your Lifestyle – Invisalign offers the flexibility to remove the aligners when needed. Most patients discover that people do not even notice they are wearing clear Invisalign aligners.
Cleaner Teeth and Improved Oral Hygiene Food tends to get trapped in metal braces but not in your Invisalign trays! Dental patients remove Invisalign aligners before they eat – food does not get stuck in this type of braces. Oral hygiene is much easier for the Invisalign patient. There is no obstruction from metal brackets and wires when brushing and flossing teeth improving oral health and hygiene throughout the orthodontic treatment.
Comfortable – Invisalign dental treatment is more comfortable than traditional braces. The Invisalign process is easier on your gums and jaws as your teeth move into place. Also, since Invisalign aligners do not involve metal brackets or wires, they are more comfortable than braces. No more getting stabbed in the mouth with metal wires!
Can all Dentists Prescribe Invisalign?
No – Invisalign has rigorous requirements for certification dentists and orthodontists. They must take approved courses and pass tests to become Preferred Providers of Invisalign Orthodontics. Invisalign recently upgraded to Invisalign G3. The dentists at McCarl Dental Group were among the first to take this course and meet and exceed qualifications to prescribe the newest Invisalign program.
Is Invisalign for Adults Only?
No –teenagers are also able to use Invisalign for straightening teeth. The parents, teenager and dentist determine if the teenager will be accountable for complying with the Invisalign regime. Teenagers need to have lost all of their baby teeth and with second molars at least partially erupted to be candidates for Invisalign orthodontics.
Invisalign may not be right for every dental patient – some people need a level of orthodontic work that can only be achieved with traditional metal braces. Please schedule a free consultation in our Millersville or Greenbelt Maryland dental office if you are interested in learning more about Invisalign and whether it would be a good choice for you. Invisalign is often an effective, convenient, and nearly invisible solution for your teeth-straightening needs.
McCarl Dentists are certified Invisalign Preferred Providers  based on their high level of clinical training and experience straightening teeth with the Invisalign system.  Correction of orthodontic problems is often covered by dental insurance.