Greenbelt Dentists at McCarl Dental Group Feature Beautiful Smile Makeovers with Porcelain Crowns and Veneers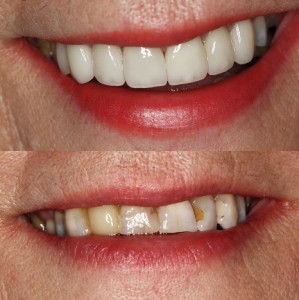 JACQUI WAS NOT HAPPY WITH HER SMILE. The teeth were crooked, the old fillings were discolored, and her teeth were worn. Each of these dental problems was successfully corrected with a combination of porcelain crowns and traditional dental veneers.  Jacqui is delighted with her smile by Dr. Jay McCarl!
"I'm so happy with my new teeth and my new smile.  It was money well spent, and Dr. Jay made it an almost painless experience.  Thank you, Dr. Jay."
If you are self-conscious about the appearance of your teeth, a smile makeover can restore your confidence when you smile and laugh. Successful cosmetic dentistry, ranging from matching a single porcelain crown or veneer with your existing teeth, to designing a completely new smile, requires extensive knowledge, planning and a high level of technical skill. Not all dentists performing smile makeovers use the latest techniques. It is important for the appearance of your smile and also the health, function and longevity of your dental restoration that your dentist is highly skilled and up-to-date.
At the McCarl Dental Group, every smile makeover begins with a comprehensive dental check-up and consultation. During this consultation, the dentist identifies and discusses with you various dental concerns that may be affecting your smile. These may include tooth decay, periodontal disease, chipped teeth, cracked teeth, gaps, misalignment, and stained or discolored teeth.
There are usually a wide range of dental treatments to consider. Together, you and your dentist will choose a treatment plan specific for your dental health problems and concerns. This plan may involve the use of multiple general dentistry, restorative dentistry, and cosmetic dentistry options. If your teeth are badly chipped or stained, teeth whitening and porcelain veneers will improve the quality of your smile. If you have broken teeth, porcelain crowns may be the best option for you. Orthodontic treatment may also be considered. The procedures used to repair your teeth will depend on the types of dental problems that you have.
Porcelain veneers are custom-made wafer-thin shells that are bonded to the front of teeth. Porcelain crowns encase the entire tooth in a protective covering. All-porcelain crowns and veneers are durable and natural looking. The quality of porcelain also significantly affects the appearance of dental crowns. There are many porcelains on the market with a wide price range. The highest quality porcelains create a more aesthetic and natural appearance.
At McCarl Dental Group, your dentist has a wide range of options for keeping your smile looking and feeling great. Everyone deserves a HEALTHY and BEAUTIFUL SMILE!