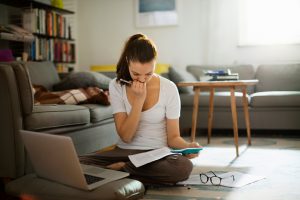 According to a recent survey of patients with dental insurance, phobia and anxiety take a back seat to funding care when it comes to keeping patients out of the dental chair. In fact, almost twice as many patients reported cancelling or avoiding dental visits due to inability to afford treatment compared to those who experience phobia. At McCarl Dental Group, your dedicated dentist and team in Millersville, MD are happy to work with each patient to create a custom treatment and financing plan that fits within their budget. Contact our team anytime with questions about financing, treatment costs, or dental insurance.

CareCredit Third Party Financing
Recently, Dr. Jay McCarl put together an informative video explaining to our patients how we work with CareCredit, a third party medical and dental financier to provide low and no interest payment plans for patients. We take time to carefully explain all of the policies and fine print. We always want to ensure that our patients fully understand their payment options. Additionally, we continue to serve patients as their advocates to the CareCredit team, and will make sure patients are treated with the respect they deserve. CareCredit is an excellent option for patients interested in cosmetic treatments not traditionally covered by dental insurance including teeth whitening and porcelain veneers.
Monthly Instalment Plans for Extensive Procedures
For many of our more advanced treatment options, we offer pre-existing installment plans. For instance, we are currently offering a dental implant special for as low as $169 a month. On a case by case basis, we're happy to work with individuals to arrange payment plans that fit within their budget. If we don't mention an installment plan for your restorative or cosmetic treatment, don't hesitate to ask. We're happy to discuss financing options.
Insurance & Specials
In addition to interest free financing, we're happy to work with patients to maximize their insurance coverage. Our knowledgeable team will process and file claims for any insurance provider, answer any coverage questions you may have, and do our utmost to provide accurate out of pocket cost estimates. Pre-payment discounts are also available for more extensive treatment. We regularly offer monthly installment plans to help put even the most advanced dental treatments within reach for every patient.