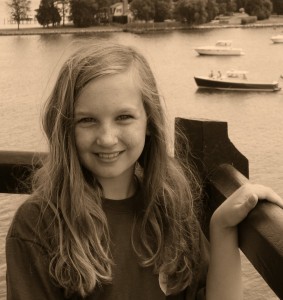 "The Time I Broke my Tooth"
by Amanda (age 12)
I have never been rushed to the hospital for an injury, but I over the summer I slipped unexpectedly.  It was 10:30pm, the night before my family was going to fly out to Orlando, Florida for a vacation.  I was brushing my teeth when my brother shouted out a joke he had just heard.  This made me laugh so hard that I lost my balance.  I slipped forward while my mouth was opened and hit my front tooth on the counter.  I had hit my tooth before, so I thought this was another one of those moments.  However, when I looked up and smiled into the mirror, I saw that half of my tooth was broken off!  I screamed, not knowing what to do.  My parents didn't know what to do either.  My mom quickly searched the internet and said I needed immediate dental care.
"Where are we going to find a dentist to fix my tooth at 10:30 at night?" I asked.  We called Dr. Jay McCarl, and he spoke with my dad over the phone as I waited nervously beside him.  "Okay," my dad said and then hung up phone.  He said that Dr. McCarl would meet us at the Shipley's Choice Medical Center at 11:00pm.  My heart was so relieved that we had found somebody.  My parents drove me to the Medical Center, and we found Dr. McCarl standing at the front door.  We went into a room, and he numbed my gums.  This felt funny, but I had had this done before.  He spent a while fixing my tooth, but at this point I didn't care how long it took.  I just wanted my tooth fixed before the trip.  Dr. McCarl was finished soon.  I smiled into a mirror again, but this time I looked perfectly normal.  This is a story I will always remember.  I am just thankful that I didn't have to spend a week in Florida with a painful, broken tooth, because there is a dentist gracious enough to meet my needs even at 11:00 at night.