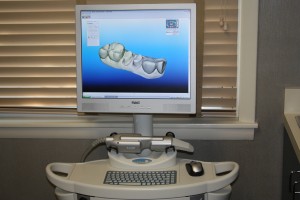 At McCarl Dental Group we strive for excellence in dental care. 3-D Digital scanning with CAD/CAM technology has become a critical component of top quality dentistry.
CAD/CAM is an acronym for computer-aided design and computer-aided manufacturing. Cadent iTero digital impressions use CAD/CAM technology to digitally capture the surface and contours of the tooth and gingival structures. This enhances the design, analysis, and manufacture of dental restorations including dental crowns, bridges and veneers.
On January 10, 2011 Align Technology and Cadent Announced a Joint Development Agreement to develop 3-D digital scanning for impressions for Invisalign orthodontic treatment. The new applications will improve assessment, diagnosis and planning for orthodontic treatment by dentists who use the Cadent iTero digital scanner for their Invisalign orthodontic cases. Dental patients who are candidates for Invisalign orthodontics will love the convenience and comfort of digital scanning for dental impressions. Dentists will love the quality, accuracy and precision of Cadent's exceptional scanning technology. The technology is in final beta tests now and should become available in the second quarter of 2011.
Dr. Clayton McCarl, Jr is a member of the Dean's Faculty at University of Maryland Dental School. He was recently asked to provide input about his clinical experience with the iTero Digital Scanning System to Gary Hack, DDS Associate Professor, and Director of Simulation Research at the Dental School in the Department of Endodontics, Prosthodontics and Operative Dentistry. Dr. Hack teaches dental students about CAD\CAM technology. Dr. Hack also presents continuing education courses to dentists reviewing evidence-based support for CAD\CAM and conducts research at the University of Maryland Dental School in cooperation with the ADA.
"Several thoughts come to mind with my experience using the Cadent iTero digital scanner. Digital scanning in lieu of elastomeric impressions is a significant technological advancement that is a must in every progressive practice.  It is not possible to do away with all impressions yet but the digital image produces superior model and dies for the lab technicians or for a milling machine to produce a restoration.  In my 27 years as a dentist, have seen gimmicky, panacea, technologies come and go.  This is for real.
When we were dental students, we trimmed our own dies.  We were encouraged by "old school professors" to continue to do this in our private practices telling us it would make us better dentists. The reason became obvious.  As we became pressed by office time schedules and demands placed upon us, "mystery margins" and slight distortions in an elastomeric impression suddenly started to look more acceptable or go unnoticed.  Dental labs report they are pressured to satisfy their client doctors.  They compensate with gallons of die spacer and creative die trimming.  Yes the crown can be seated but why do some restorations last five years and others twenty-five?
When you scan your prep there is no hiding.  Either you see a clear, defined, continuous margin or you don't.  It's like trimming your own dies again only at hyper speed.  You tend to stay above the gum lime with less potential irritation to the gum – significant benefits to our patients.  The margins are more chamfer than feather edge – allowing a wide range of options for restoration material selection.
Restorations insert easily with consistent minimal adjustments and excellent fit.  We strive for excellence in dental care and digital scanning has become a critical component of top quality dentistry."