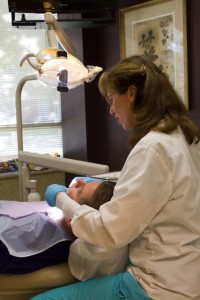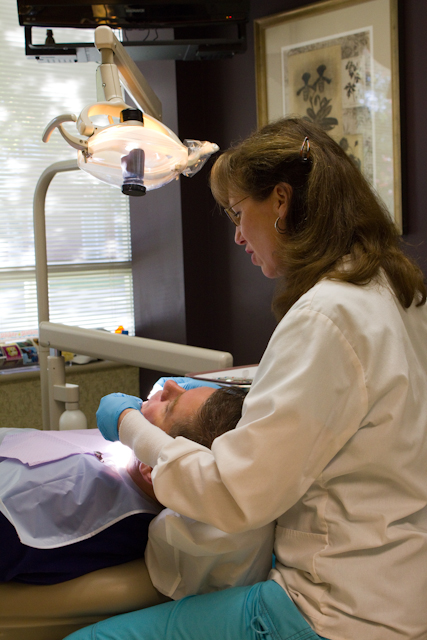 Sally McCarl Moore, RDH of the McCarl Dental Group is one of the first dental hygienists in the area to become licensed to administer local anesthesia.  New 2010 laws in Maryland allow licensed dental hygienists who complete additional requirements to give local anesthesia injections for soft tissue periodontal treatment.
Congratulations Sally!
Sally completed a rigorous 28 hour continuing education course on local anesthesia for dental hygienists offered by the Dental Hygiene Program of the University of Maryland Dental School. With successful completion of the examination given by the North East Regional Board of Dental Examiners (NERB), Sally is now licensed to administer local anesthesia for dental hygiene procedures. Sally has been a dental hygienist at McCarl Dental Group since 1980. She works in our Greenbelt and Millersville Maryland dental offices and consistently gets fabulous reviews from our dental patients .
It is important that hygienists delivering periodontal therapy be able to ensure optimal patient comfort. Patient comfort increases the success of periodontal treatment because dental hygienists can do a more thorough job. Dental Hygienists at McCarl Dental Group perform a wide range of periodontal treatments including scaling, root planing, deep scaling and soft tissue management.
The local anesthesia course was presented by Marion C. Manski, RDH, MS, Director of Admissions and Assistant Professor at the University of Maryland Dental Hygiene Program of the University of Maryland Dental School in Baltimore, Maryland. The course is based on the Code of Maryland Regulations (COMAR) 10.44.04 for local anesthesia. Ms. Manski taught fundamentals of the anatomy and neurophysiology of pain and pain control, pharmacology of anesthetic agents, and the importance of patient's medical history as it relates to local anesthetics. Participants demonstrated proper administration of topical and local anesthetics in a clinical setting. Successful completion of the course and the Local Anesthesia NERB examination are requirements for certification of dental hygienists to administer local anesthesia in Maryland.
Continuing Dental Education for our dentists and dental hygienists is an important priority at McCarl Dental Group. Lifelong learning is essential for oral health professionals to keep abreast of the frequent advances in science and technology related to dentistry. We are very proud of Sally!