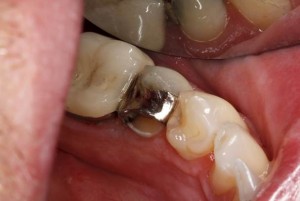 Dental Emergencies happen when we least expect them. At McCarl Dental Group, we treat patients who need emergency dental treatment every day. Pain, swelling, broken teeth and a lost veneer or crown are typical dental emergencies, but anything is possible. In some cases, you may be on vacation or unable to make it into the office when an emergency arises. Even if you are not in the area, do not hesitate to call your dentist at McCarl Dental Group. We can offer dental advice and let you know if your dental emergency needs immediate treatment or if it can wait until you return home. If you need to be seen immediately, we may be able to help you find a dentist near you.
We're here to help. Below are a few short-term remedies you can try before receiving emergency help.
Lost crown or veneer: Sometimes a crown or veneer becomes loose. If your crown or veneer has popped out, please DO NOT swallow or lose the tooth. Be sure to store it in a safe place and schedule a dental appointment as soon as possible.
Not sure what to do? Here are a few short term solutions to get you through a social event until you can get into the dental office. If a crown or veneer is loose do not go to sleep with it in your mouth!
See if you can align the crown and "snap" it back into place. Veneers usually do not snap into place securely.
If the crown or veneer is not secure, use Vaseline or a denture adhesive like Poligrip or Fixodent as a temporary measure.
If you are not able to confidently secure the crown or veneer, place it in a clear plastic bag or clean medicine vial (don't use a paper towel, napkin or tissue – these get accidently thrown away).
Broken tooth: If cold air or water causes pain, or if you feel sharp edges on a tooth, you may have a broken tooth. Do not try to chew with the damaged tooth – a crack can spread and turn a small dental problem into a large one. Call our Greenbelt or Millersville MD dental offices and schedule an emergency dental appointment as soon as possible.
If the tooth hurts, take an over the counter pain reliever.
Eat soft foods and avoid chewing with the broken tooth.
Wax or gum can cover a sharp edge temporarily to protect your tongue.
Trauma to permanent tooth: It is normal for children to lose baby teeth. If an adult tooth is knocked-out.  Gently the pick the tooth up. Try not to touch the root of the tooth. If the tooth is dirty, do not use soap – gently rinse it in water or milk and try to replace the tooth in the socket without using force. The sooner the tooth is replaced the greater the chances that it will survive. If your gums have swollen and you cannot put the tooth back into its socket, keep it moist either by carrying the tooth in cool milk in a baggie or Tupperware container. Call and schedule an appointment with our emergency dentists. We do our best to treat traumatic dental injuries the same day they happen.