You may be surprised to know that the benefits of having straight teeth extend far beyond a beautiful and confident smile. According to the American Dental Association, straightening your teeth can actually significantly affect your overall dental health. With Invisalign, having an attractive, confident smile and reducing your risk for tooth decay and gum disease go hand in hand.  If would like to learn more about the benefits of Invisalign orthodontics please call McCarl Dental Group in Millersville and Greenbelt Maryland for a complementary consultation with one of our Invisalign dentists.
HEALTHIER TEETH AND GUMS
Teeth that are crowded or too widely spaced can lead to swollen, red gums, which are signs of periodontal disease. When teeth are properly aligned, gums fit more securely around the teeth. This creates the strongest and healthiest defense against potential periodontal problems. Comfortable and clear Invisalign aligners gently and gradually move your teeth into the proper position – without unattractive brackets and wires.
EASIER CLEANING
One of the biggest challenges of traditional metal braces is removing all the food that gets trapped in the brackets and wires. Difficulty cleaning your teeth often leads to plaque buildup and eventually tooth decay. With Invisalign, the aligners are removable, so it's easy to continue brushing and flossing your teeth for optimal plaque removal.
OVERALL HEALTH
Your teeth serve as a window to the health of your body. Your teeth and gums – and how they look to others when you smile – tell a lot about your overall health.
Tooth decay and periodontal disease (also called gum disease) are caused by bacteria. Left untreated, periodontal disease and tooth decay can cause bad breath, mouth sores, tender or bleeding gums and even tooth loss. Studies by the American Dental Association have shown that oral infections can also lead to other more serious health problems. Illnesses related to poor oral health include: heart disease, stroke, pneumonia, premature birth and diabetes.
Invisalign aligners make daily oral hygiene easier, thus reducing the risk of serious health problems. Correctly aligned teeth can also alleviate the issues caused by an improper bite, including jaw problems, speech or chewing difficulties, and increased wear on tooth enamel. Invisalign effectively addresses all of these orthodontic issues. With straight teeth, you'll have the confidence of a great smile AND increase the likelihood of improved oral health.
One of the obstacles to orthodontic treatment is the unattractive, fixed metal bracket and wires associated with traditional braces. Although clear brackets have been introduced, the wire that goes through the brackets remains very visible.
Invisalign aligners are virtually invisible with the added benefit of being removable and comfortable. No metal wires and quick, beautiful, healthy results! Patients remove the aligners each time they eat. This means they can continue to eat all the foods they love without any restrictions or worrying about food getting stuck in their braces. Equally as important, patients maintain their normal oral hygiene practice, because brackets and wires are not an impediment during brushing and flossing. With other teeth-straightening methods, eating, as well as brushing and flossing, can often be difficult.
One of the best things about Invisalign is the minimal impact it has on our patients' everyday lives. Since the aligners are so comfortable, patients are able to wear them for the recommended 20 to 22 hours a day without much effort.
Advantages of Invisalign:
•    Clear aligners are virtually invisible
•    Smooth plastic aligners are comfortable
•    Patients eat whatever they want
•    Aligners are removable for easy cleaning
The dentists at McCarl Dental Group are preferred providers of Invisalign orthodontics. We offer Invisalign G3, the newest innovation by Invisalign orthodontics, engineered to deliver even better clinical results. Invisalign is a win-win situation. When our dental patients are healthy and happy, everybody wins!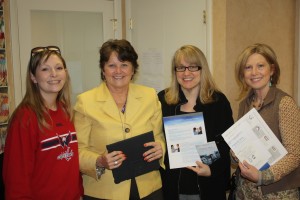 Mary Yetter from Invisalign Orthodontics recently discussed the health benefits of straight teeth at the Greenbelt dental office of McCarl Dental Group. The dentists at both the Millersville and Greenbelt offices of McCarl Dental Group are preferred providers of Invisalign.