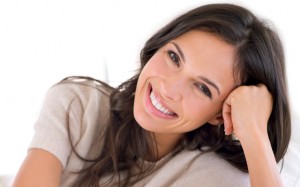 Countless studies in recent years have shown that your smile is important. From the University of California at Berkley study that revealed those people who smiled more were generally happier, lived longer, and had better marriages to the employment survey that uncovered employer discrimination based on dental damage, decay, or tooth loss, the verdict is in – the way your smile looks matters. Based on these facts, it's no surprise that cosmetic dentistry services have gained popularity in recent years. Your experienced dentists and team at McCarl Dental Group are proud to offer the three most popular smile transforming cosmetic services: teeth whitening, Invisalign, and porcelain veneers.

Teeth Whitening
Teeth whitening is one the easiest and fastest ways to make a big impact on the appearance of patients' smiles is. A brilliant white smile looks great, feels cleaner, and improves confidence. There are endless varieties of store bought whitening products that promise dramatic results, but produce little change. In most cases, over the counter whitening agents are not strong enough to make an impact. Professional grade whitening is safer and more effective offering patients predictable results up to ten shades brighter.
Invisalign
For years, all orthodontic treatment was considered to be "cosmetic." Today, we know better. Properly aligned teeth are less likely to wear unevenly causing chips, cracks, and excess strain on the jaw, and they're easier to clean preventing tooth decay and gum disease. These are only two of the important reasons orthodontic treatment to repair misaligned smiles is so important. However, traditional braces aren't for every patient. Appearance aside, patients with sensitivities to metal struggle with traditional bracket and wire braces, and many patients are unable to commit the time to frequent, lengthy office visits for two or more years. Invisalign offers a solution to all of these problems by correcting smiles using a series of clear, plastic alignment trays to gradually shift teeth into position quickly, invisibly, comfortably, and effectively.
Porcelain Veneers
We even have good news for those patients who just wish they could hit the reset button when they look at their damaged smile. With porcelain veneers, we are able to conceal any number of cosmetic flaws instantly transforming smiles from flawed to fabulous.
Smile Makeovers
Still not sure what cosmetic service you need? Do you need a combination of restorative, cosmetic, and orthodontic treatments? At McCarl Dental Group, we're happy to offer customized smile makeover treatment planning. A smile makeover may include any combination of services over the course of several, weeks, months, or even years depending on your smile goals. We would love to help you get the smile of your dreams, and that starts with a cosmetic dentistry consultation. Contact us to find out more about any of our cosmetic dentistry services or to schedule your consultation today.