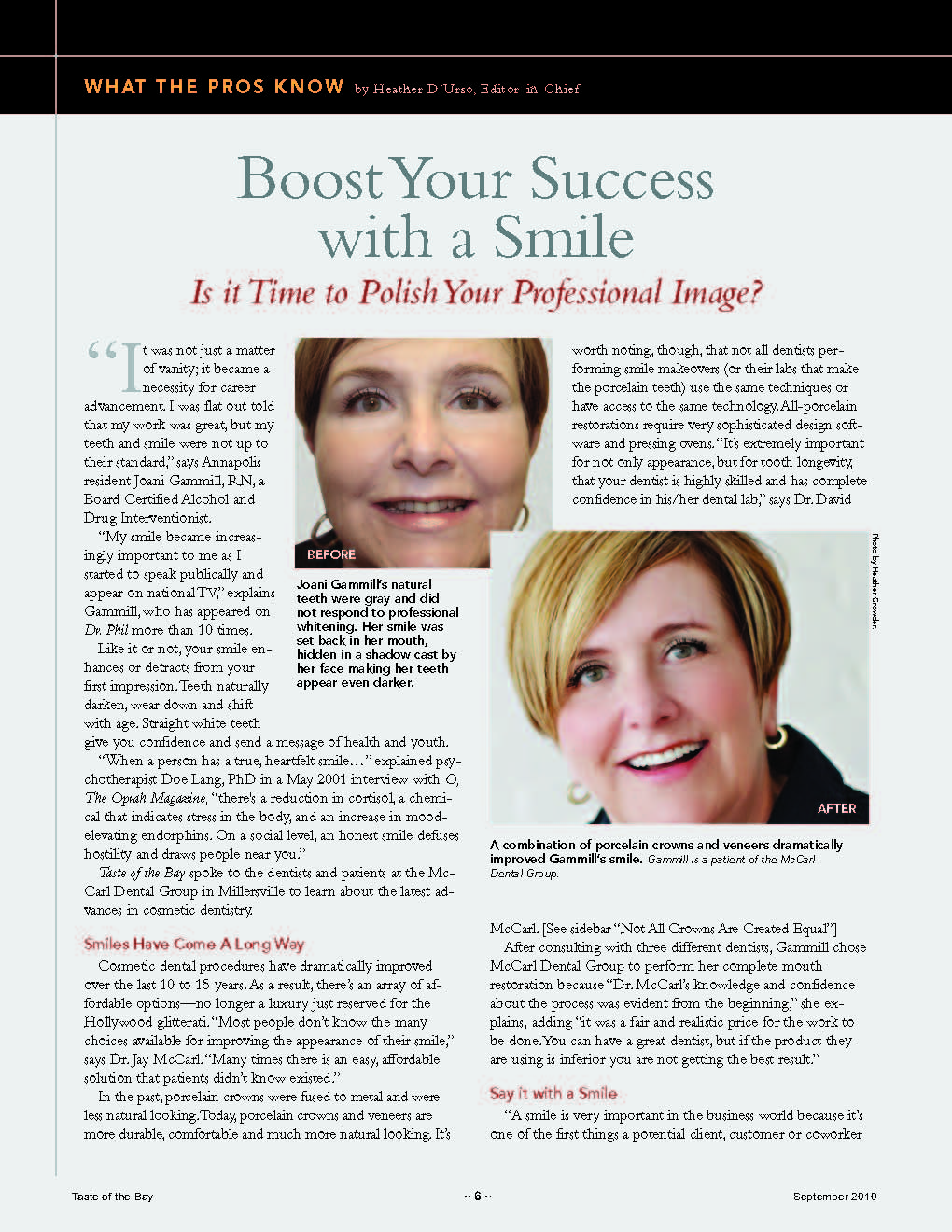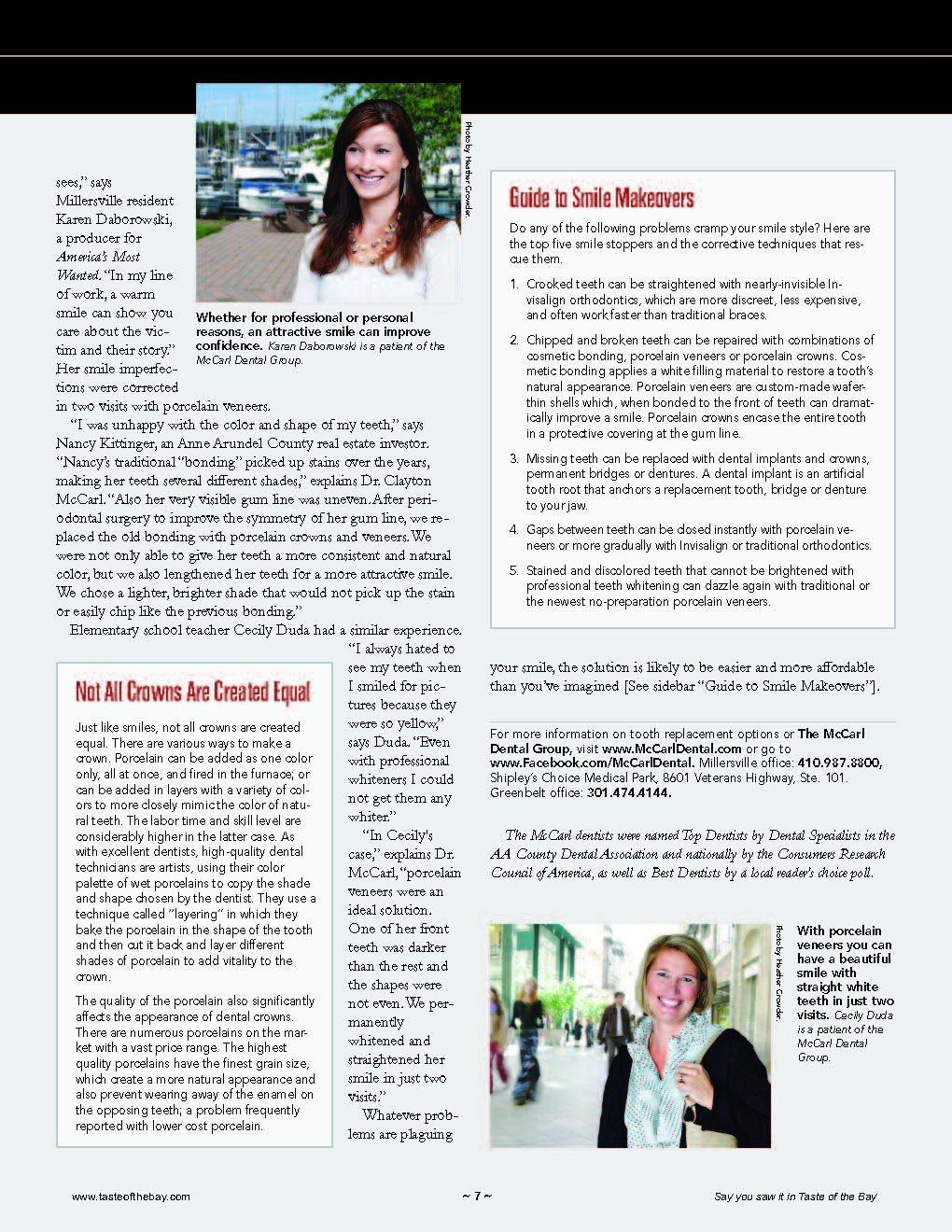 According to a survey completed by the American Academy of Cosmetic Dentistry, 90% of people believe that an attractive smile is an important social asset. 70% believe that an unattractive smile hurts career success and only 50% of people are satisfied with their smile.
Successful cosmetic dental cases, ranging from matching a single porcelain crown or veneer to a complete smile makeover, require extensive knowledge and planning in addition to a high level of technical skill. The dentists at McCarl Dental Group combine the science and art of dentistry with patient centered dental treatment.
A smile makeover improves the appearance of your smile, and even more important, can restore the health and function of your mouth and teeth. Are you self-conscious about the appearance of your teeth? There may be a quick and convenient solution to restore your comfort and confidence when you smile and laugh.
A comprehensive dental check-up and consultation is the first step when you are considering how you would like to improve your smile. During this initial consultation, your dentist will identify and discuss with you various issues that may be affecting your dental health and the appearance of your teeth. These problems may include cavities, periodontal disease, chips, cracks, gaps, crooked teeth, and staining or yellowing of your teeth. With your goals for your smile in mind; your dentist will develop a treatment plan specific for your unique dental health and dental care needs.
A smile makeover can incorporate teeth whitening, dental crowns, porcelain veneers and dental implants. The procedures used to repair your teeth will depend on the types of dental problems that you have.
Your smile is unique and personal to you, so tell us what you want, and together we create your custom "designer smile" to bring out the very best in you.
The following questions are important in selecting a cosmetic dentist:
1. How long they have been doing cosmetic dentistry and how frequently they attend continuing education conferences?
The Drs. McCarl began their advanced post-doctorate training in cosmetic dentistry as aesthetic techniques were being invented in the 1980s and regularly attend continuing education. All of the dentists at McCarl Dental Group are trained in all of the latest restorative and cosmetic dental procedures and dental products. The McCarl Dental Practice has over 10,000 satisfied patients! Over 75% of our new patients are referred to us by our existing dental patients.
2. Do your dentists learn directly from the top authorities in dentistry?
McCarl dentists have studied from all of the "best" dentists in the industry and have received advanced cosmetic dentistry training from Dr. Gordon J. Christensen, Dr. David Hornbrook, Dr. Peter Dawson, Dr. Frank Spears Dr. Ed Miller, Dr. Gary Radz, and other dentists affiliated with the Las Vegas Institute for Advanced Cosmetic Dentistry. Drs. McCarl also have ongoing advanced training in dental implants and are certified to both restore and surgically place minimally invasive or mini dental implants and traditional dental implants. The dentists at McCarl Dental Group also regularly attend ongoing advanced orthodontic training and are certified preferred providers of Invisalign orthodontics. Drs. Jay and Clayton McCarl were named Fellows in the Academy of General Dentistry — an award granted to dentists with more than 500 practice hours who have passed a comprehensive 400-question examination. Dr. Clayton McCarl, Jr. DDS is a member of the Dean's Faculty at The University of Maryland Dental School and lectures on Health Promotion and Policy.
3. Can they show you quality photography of their work?
All of the photographs featured on the McCarl Dental Group website are actual McCarl Dental Patients most of whom are from Anne Arundel and Prince Georges County and specifically from Severna Park, Annapolis, Crofton, Crownsville, Millersville, College Park, Bowie, New Carrollton, Laurel and Greenbelt Maryland. Many of the McCarl dentistry patients have written testimonials and volunteer to share their success stories on videos that are posted on the McCarl Dental YouTube Channel.
If you would like to learn about options available to improve your smile, please call the McCarl Dental office near you. Annapolis, Severna Park, Millersville, Maryland 410-987-8800 or Greenbelt, College Park, New Carrollton, Maryland 301-474-4144.